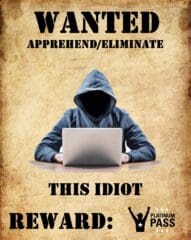 Isle of Man – Wow, an exciting new Platinum Pass is up for grabs!
Online gaming juggernaut PokerStars announced today that they will award a coveted $30,000 Platinum Pass to any person coming forward with information that leads to the apprehension/elimination of any person(s) involved in the recent DDoS attacks – a prize package that could be worth millions!
A once-in-a-lifetime opportunity
The PokerStars Players Championship looks to be the largest 25k High Roller in history! With PokerStars adding over $9 million to the prize pool, this is one tournament you don't want to miss. And the opportunity could be yours provided you disclose the whereabouts and all known aliases of those involved or connected to the unspeakable attacks against the PokerStars software.
Opportunities like this don't come along often. And this giveaway looks to be a great chance for PokerStars to prove they still care about their fans, the poker world in general, and unmerciful vigilante justice.
PokerStars VP of Corporate Communications Eric Hollreiser had this to say about the upcoming promotion:
"The PokerStars Players Championship is gearing up to be the greatest High Roller tournament the poker world has ever seen! Our entire team is super excited about it. Almost as excited as we'll be once we have these hackers in our custody. May God Almighty have mercy on their souls because I promise you we won't."
You can single-handedily save online poker
A series of DDoS attacks has plagued several online poker sites this year. America's Cardroom faced several issues earlier this summer while both PartyPoker and PokerStars were victims in the last few weeks. 888poker and Winamax were probably hacked too, but who cares really. Is ParadisePoker still a site?
For hopeful players and fans looking for their chance to play in January's PSPC simply tweet out what information you have using the hashtag #25kPSPCHackerJustice. Several members of Team PokerStars will then vote on which participant provided the most incriminating evidence, and that lucky gal or girl will be whisked off to the Bahamas for the adventure of a lifetime!
2003 WSOP Main Event winner Chris Moneymaker also added, "Ya know we're all about fun here on the Moneymaker Tour. And what could be more fun than taking $86 and playing some poker for a chance to win millions!? I'll tell you what – standing behind a one-way mirror and watching the interrogation of a suspect as PokerStars security and Bahamian police go to town on them with unflinching impunity. And all at the gorgeous Atlantis Hotel and Casino!"
Submissions for the Platinum Pass must be submitted by September 30th. Family and friends of hackers are excluded from participating, but can still be awarded a $109 tournament ticket.