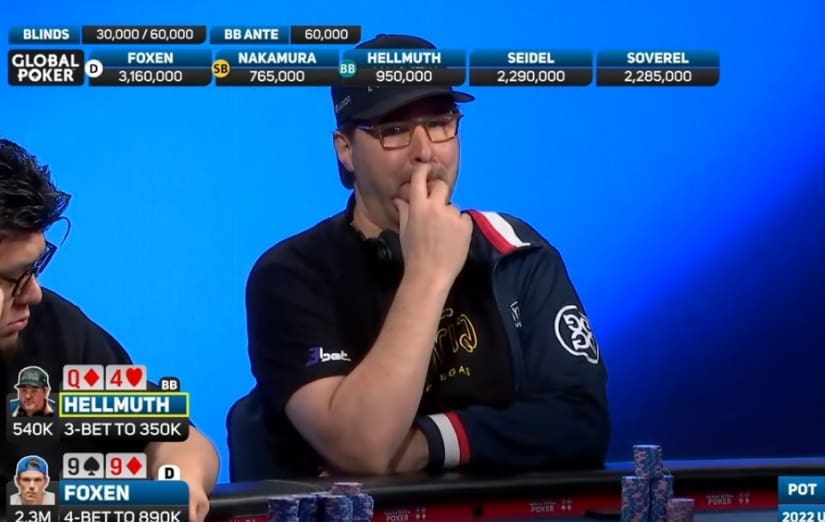 Twitter poker blew up on Friday night following a controversial call by Phil Hellmuth during Event #9: $25,000 No Limit Hold'em at the 2022 US Poker Open.
Causing division is nothing new for the Poker Brat, but this time it wasn't an expletive-ridden explosion that got people chattering.
Instead, it was for playing the most insane hand of his poker career.
Play To Win
The hand in question was televised on PokerGO and came at the final table which at the time was down to five.
Blinds were at 30,000/60,000 with a 60,000 big blind ante.
Holding pocket nines, Alex Foxen raised on the button to 125,000.
Making a move, Hellmuth, who only had Qd 4h, reraised to 350,000.
Sensing what he was up to, Foxen was having none of it and went all in to fully test Hellmuth who, after quite a bit of play-acting, declared "I guess I better play to win", met his opponent and went all in himself.
Needless to say, the co-commentary team of Brent Hanks and Jeff Platt couldn't believe what they were seeing.
Expecting as we all were that the 16 time WSOP bracelet winner would simply send his cards to the muck, Hanks said, "This would be horrific, arguably one of the worst decisions of his poker career", while Platt agreed adding "Nobody would call here".
How The Hand Played Out
The most remarkable televised hand of Hellmuth's poker career started out with Qd and 4h against a pair of 9s.
At this point, Foxen had a 71% chance of success before the flop, of course, produced a Queen of Hearts, alongside Ks and 7s to reduce Foxen's win likelihood to just 10%.
The turn then delivered a 5h leaving Foxen needing a nine on the river and a 5% chance of success.
Naturally, the river refused to play along and duly rewarded the Poker Brat with another Queen, this time of spades.
To give him his credit, Foxen took his beating like a champ.
In the end, Hellmuth raked in a pot of 1.9 million chips, but we can only dread to imagine how he would have reacted had the tables been turned.
The Talk Of Twitter Poker
As you can imagine, the debate on to fold or not fold really took off on poker Twitter.
Daniel Negreanu Tweeted "What color magic is this one?"
Two time bracelet winner Eric Froehlich questioned whether the Poker Brat would have been as classy as Foxen if he had been on the receiving end (I think we already know the answer to that one).
Meanwhile, Jason Koon explained in detail why the move made more sense than you think.