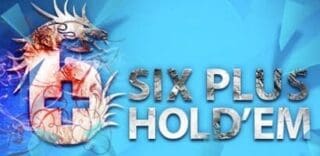 Originally introduced in Asia in 2014, Six Plus Hold'em is one of the newer variations of Hold'em. It is a game that has gained popularity amongst players for its faster play, improved action, and to an increasing number of players – additional fun factor. Players can try out the innovative game on Coral Poker.
So how are these games played and what are some basic tips for how to approach them?
The Basics of 6+ Hold'em
There are some big changes to 6+ Hold'em but if you are already familiar with poker you should be able to get the swing of things pretty quickly after a few dozen hands.
In 6+ Hold'em, instead of using a 52 card deck, only 36 cards are used. All twos, threes, fours and fives are removed from the deck.
Here is a basic primer on the game:
Hand rankings changes
Another big change for 6+ Hold'en tables is that the hand rankings are different. Due to the low cards missing from the deck, your chances of being dealt high cards and also earning high straights are increased. On the other hand, flushes are more difficult to be dealt due to the fact there are only nine cards for each suite in the deck. As a result, a flush is now worth more a full house.
The other big change to the hand rankings is that a three of a kind is now worth more than a straight since straights are much easier to hit compared to a standard version of No Limit Hold'em.
Make sure to only play a single table of these games at a time because it can be easy at first to get yourself mixed up. Always have the Six Plus Hold'em Rankings handy:
Coral Poker 6+ Hold'em Hand Rankings
Royal Flush
Straight Flush
Four of a Kind
Flush
Straight
Three of a Kind
Two Pair
Pair
High Card
Note that A-6-7-8-9 is the lowest straight you can achieve in these games.
How is the play different?
The biggest change of 6+ Hold'em is that you will be dealt more "good" hands — or at least the perception of good hands. You are more likely to be dealt high cards compared to traditional Hold'em. Pocket pairs, including Pocket Aces, are also more common. Instead of being dealt Pocket Aces every 220 hands, you will receive Pocket Aces — or any other pair — about once every 105 hands.
While you will want to play some of your strong draws more aggressively, you will want to not be quite as aggressive with top pairs as your opponents could have similar hands. Hitting a set is comparatively common in these games — they will happen around 18% of the time.
The rule variations in 6 Plus Hold'em tables will need to be strongly considered — and your strategy adjusted — when playing on these tables. Watch two of the game's greatest players — Phil Ivey and Tom Dwan — give some of their thoughts and basic tips on how to play these games:
Coral Poker Six Plus Hold'em games
Six Plus games were introduced on the iPoker Network, including Coral Poker, in 2016.
Six Plus Hold'em games at Coral Poker have their own tab, so they are easy to find. Find the games within the Coral Poker lobby as detailed below.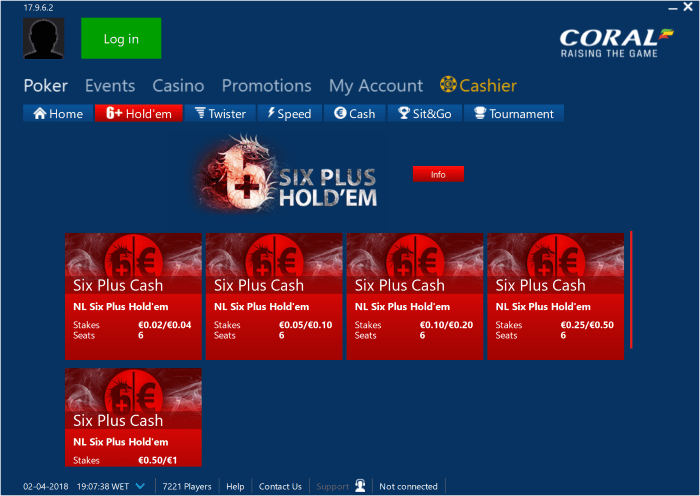 Looking for online casinos outside of Europe? Find trusted sportsbook reviews to learn where your money is more likely to stay safe."