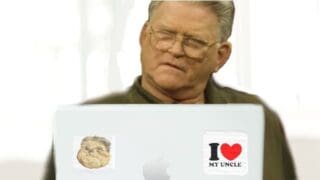 Las Vegas, NV – Poker Hall of Famer and six-time bracelet winner T.J. Cloutier was recently found in his Nevada residence with a perplexed look on his face and a puddle of drool in his lap as he stared bewildered at his recently purchased PioSolver software.
Paramedics were called, but quickly left the scene once they realized T.J. was in fine health and simply "confused as all get out."
Cloutier's incredible PioSolver journey hits a snag
Cloutier was first introduced to solvers this past summer while playing in a $235 Rio Deepstacks event and also daydreaming about the craps table.
A young German player bet quarter pot on both the flop and turn before betting six times the pot on the river for value with third pair. Cloutier asked the kid where he learned to play like that and thus began his introduction to "solvers."
PioSolver is just one of many solvers used for determining ranges and bet sizes for game-theory optimal poker. Armed with this newfound wisdom, all the best young players in the game have joined together to make poker, finally, incredibly boring to watch.
Excited to embark on his new knowledge quest, T.J.'s first little snag came when he realized he didn't own a computer.
Cloutier would eventually borrow his nephew's Macbook Pro, but was disappointed to learn that all computers don't have PioSolver built into them. He would have to go buy it.
"Damn it!" noted T.J..
"First thing I did was I went and drove down to the Wal-Mart and tried to buy PioSolver there," explained the 78-year-old veteran. "But lady there said she didn't know what I meant. Then I drove over to the hardware store to see if they had one, but they didn't neither. Then I stopped by the casino real quick to lose $50,000 playing craps. Finally, I got fed up and just headed home."
T.J. eventually learned how to download the software onto his computer, however he would initially regret it.
Paramedics, craps and automobiles
Upon launching the tutorial, T.J. simply stared awestruck and flummoxed at his screen.
The minutes ticked by. Hours turned to days. Days to weeks. Paramedics came and left. Finally, after three and a half long years, it happened…T.J. calculated his opponent's range.
"Man, this crap sure ain't easy, but I think I'm starting to get the hang of it!" he said, a huge grin breaking out over his face.
However, after saying the word "crap," T.J. immediately thought of the craps table and rushed off in a newly purchased scooter to the Golden Nugget to lose $35,000 to the dice.
Cloutier would eventually return home and become a master of GTO play. He is currently a Run It Once instructor and charges $5k/hr for coaching.
He also, kinda, looks like a cookie*.
*Editors Note: Cookies actually look like T.J. Cloutier