After you have taken advantage of the latest Bet365 bonus code for the sports betting part of the site, then betting on sports at Bet365.com is easy.
That's the case whether you are an experienced punter, if you've never placed a bet with bet365 before, or even if you've never bet on sports at all.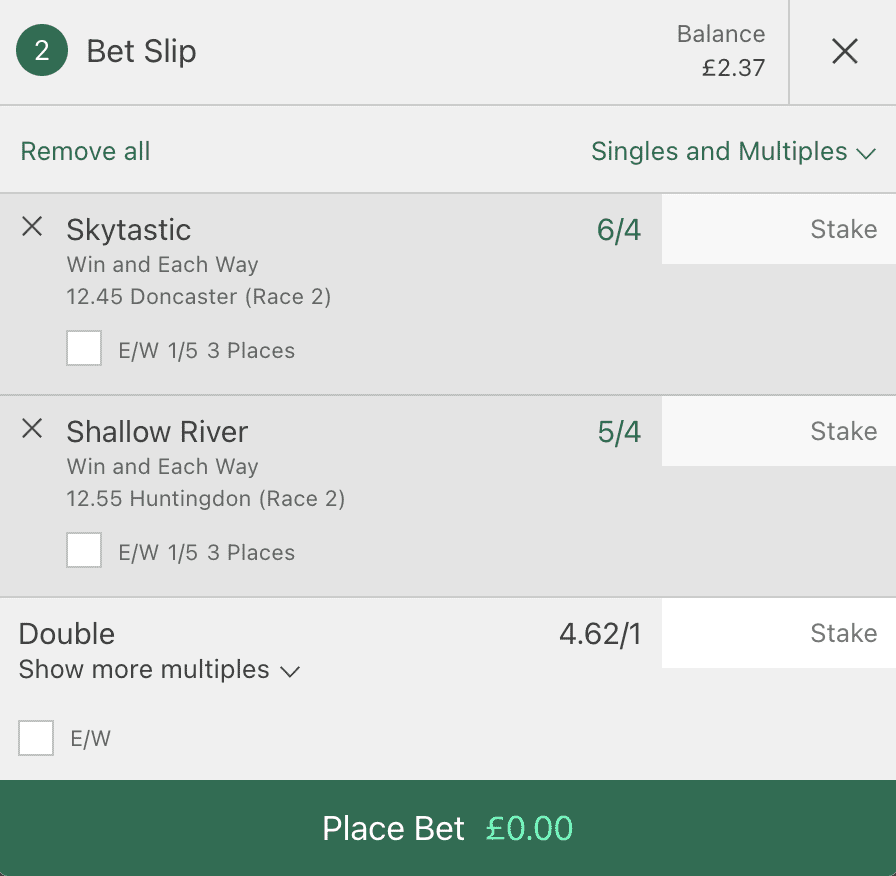 To show you how easy it is to place a bet, here is a brief overview of the different options available on the Bet365 Bet Slip.
The first thing to note about the Bet365 bet slip is that it is divided into several sections:
Bet Slip Header
Bet Slip Selections, Stake & E/W Selector
Multiple Bet Options
Place Bet Button
[show-table name=skybet-ad]
Section 1: The Bet Slip Header
The Bet Slip Header is located at the top of the Bet Slip and contains a drop-down menu that outlines five different types of bet: Standard, Banker, If Bet, Reverse If Bet and Teaser.
Singles And Multiples
This is the standard bet slip that is most often used for betting on most sporting markets and covers the most popular types of bet (Singles Win and Each/Way, plus more common multiple selection bets) and therefore it is the default setting on the Bet365 site.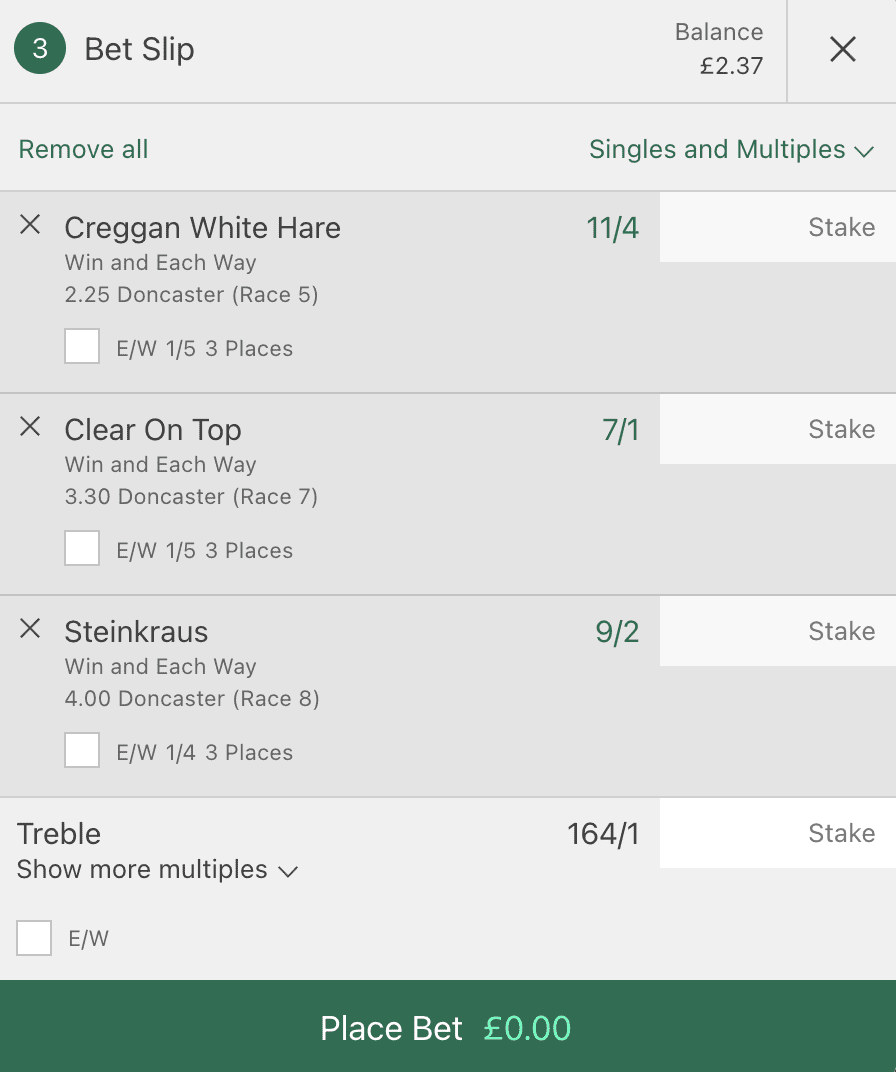 Banker
This is a form of bet that lets you choose one or more selections that must win before any other selections you have made become active. These must win selections are called Banker Bets.
In order to place a banker bet you must have a minimum of three selections – two selections that are not banker bets and one that is.
The number of Banker bets selections and instructions for the available combinations of banker bets, with your other selections will then be listed in the Multiple Bet Options section at the bottom of the bet slip.
In the example below, 1B + 1/3 means your stake must cover every combination of winning banker bet, plus one of your other three selections winning. 1B + 2/3 means that your stake will cover your banker selection and two of the three other selections winning, and lastly, 1B + 3/3 means that this bet will cover your banker bet and all three of your other selections winning.
You can select just one combination of banker and other selections, or you can cover multiple, or even all possible combinations, although this does increase the value of your bet.
Banker bets are a good way to give yourself a better chance of success on multiple bets. If, for example, you have picked a five team accumulator bet and back that as a standard bet, if just one result falls, then your lose the bet.
However, in a banker bet you have more options. By selecting one of the games as bankers (meaning that bet must be a winner) you can then decide which out of your other selections you want to team with the banker bets in order to try and achieve a successful bet.
And it means that if one of your non-banker selections does lose, you can still generate a return.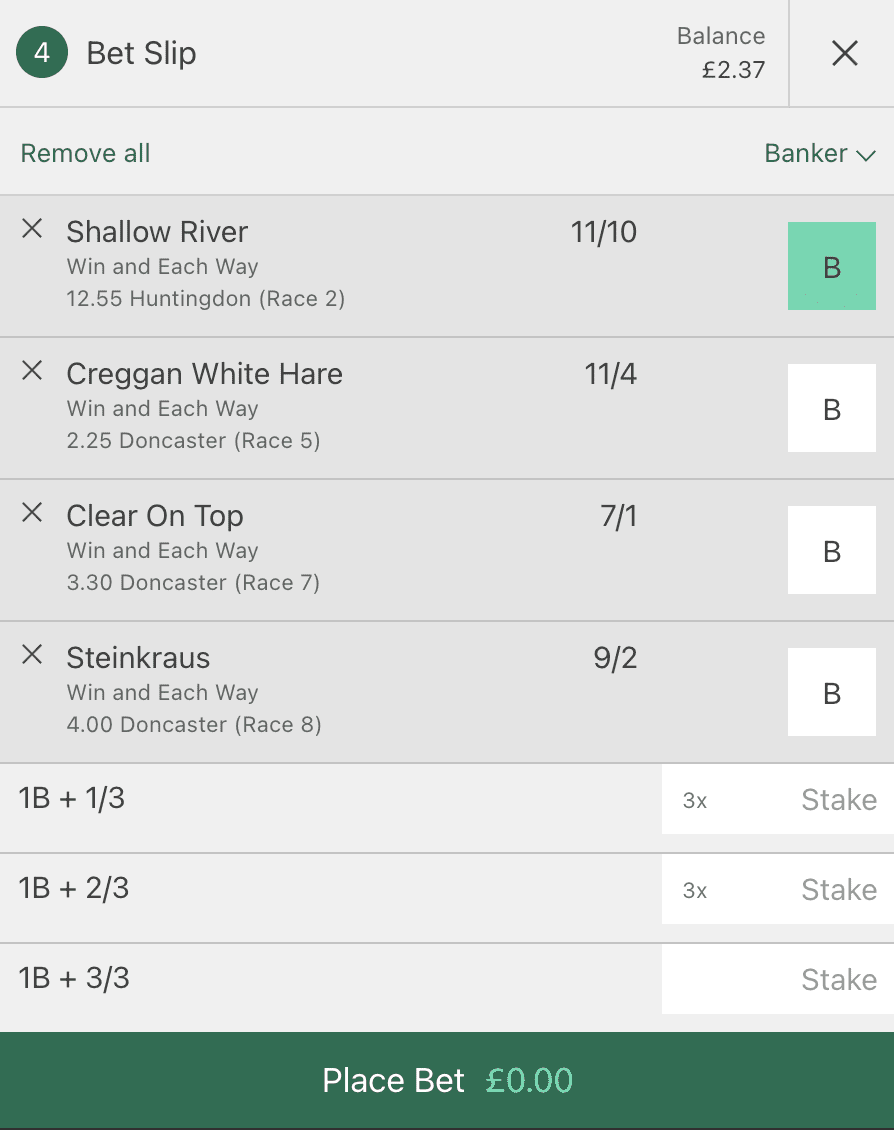 In the example shown above, I have selected one banker bet (Shallow River), I also have three other selections on my bet slip, which gives me a total of three different banker bet options: 1B + 1/3, 1B + 2/3 and 1B + 3/3.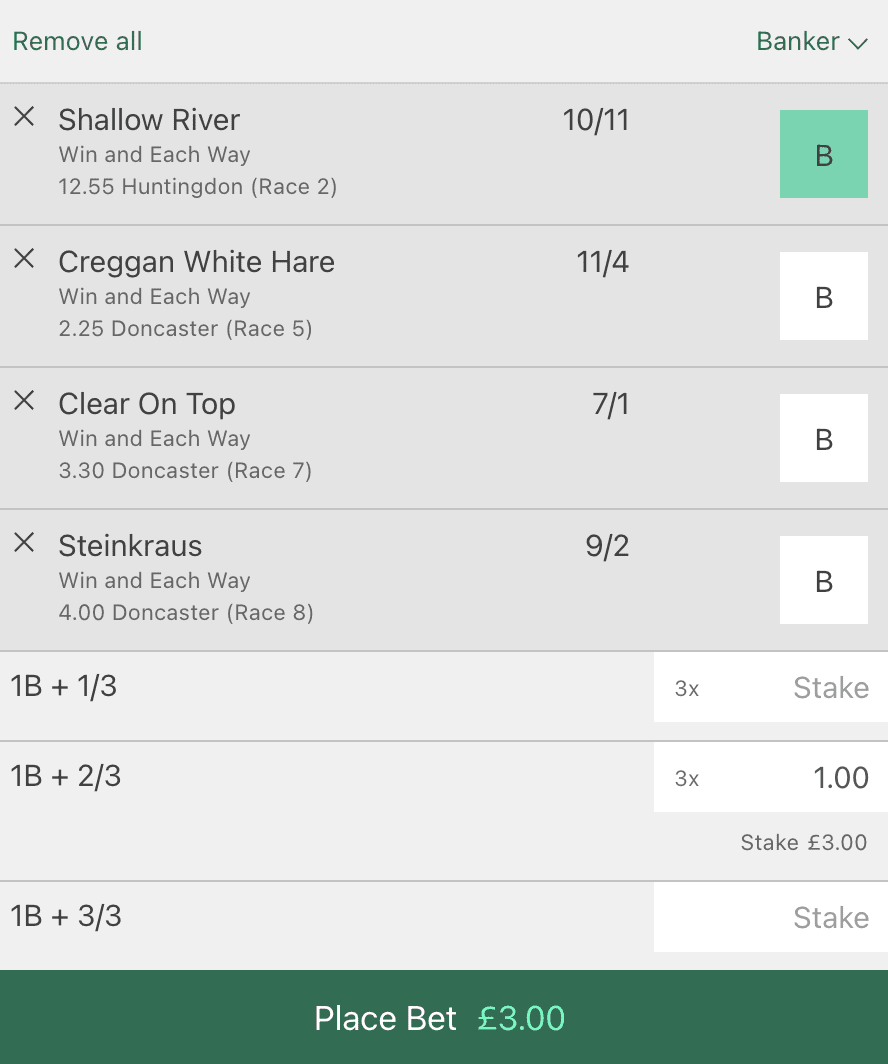 In the example above, I have decided to just bet on the 1B + 2/3 bet, which covers three separate combinations of the banker to win, plus two of the other three selections. That means for a £1 unit stake, this bet will cost be £3.
This means as long as my banker bet and at least two of my other three selections win, even if one loses, I will receive a return on the winning line I did cover.
The only other thing to remember with banker bets is that the more options you cover, the more your initial stake will be. In the example above, we are covering three bets so the total bet will be three times my initial stake (£1 x 3 = £3).
However, if I decided to cover all the available bets with a £1 stake, then the total cost would be £7 (3 x £1 for the 1B + 1/3, 3 x £1 for the 1B + 2/3 bets and 1 x £1 for the 1B + 3/3 bet).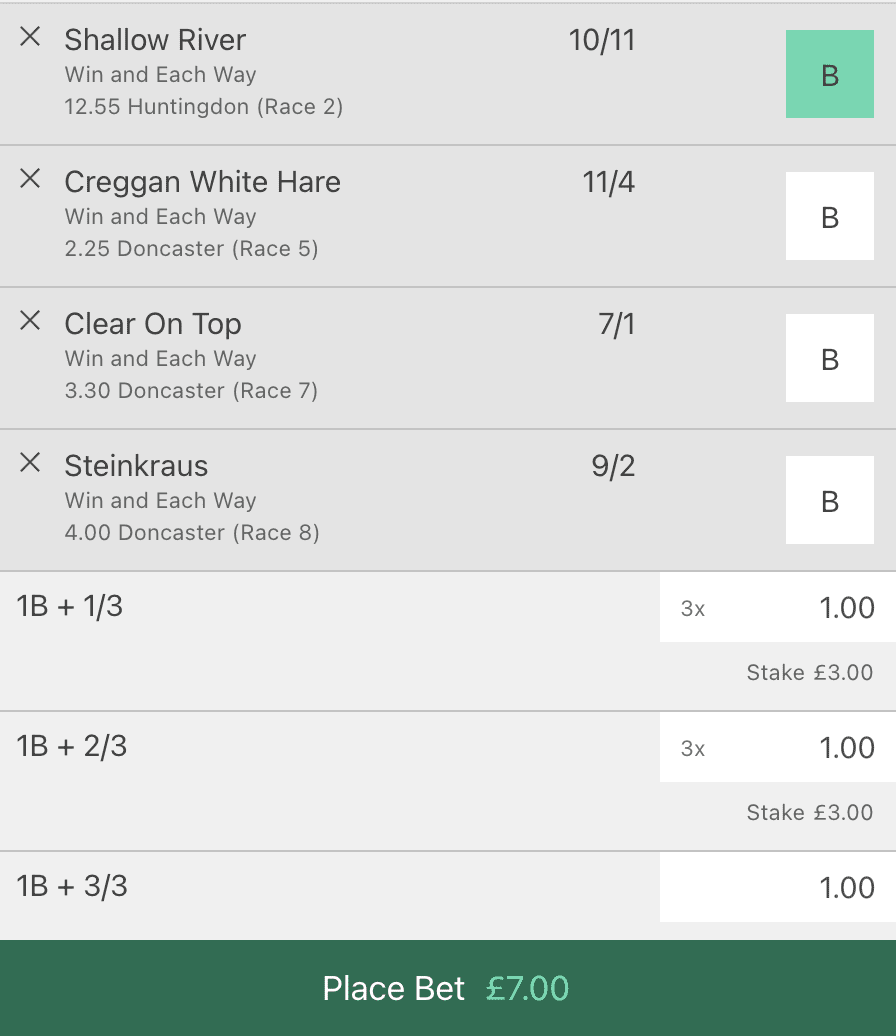 However, you can select more than one banker for a banker bet, especially one with multiple selections and the more banker bets you have compared to your total number of selections, the fewer the number of lines you will have to cover.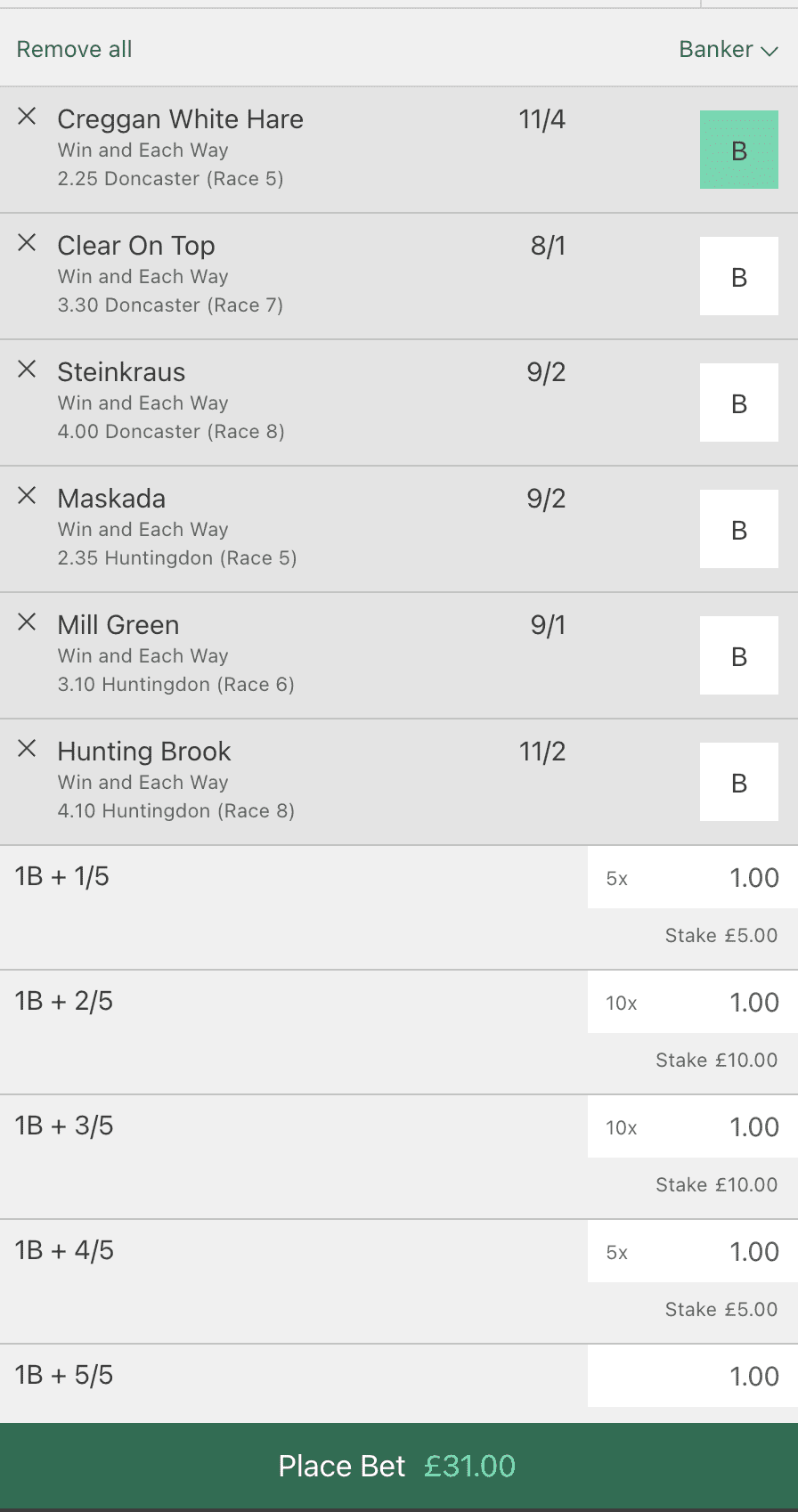 In the above example, we have made six selections on our bet slip but selected just one banker. This gives is a wide range of different combinations of bets to cover and in total, to cover every possible combination of bet with this set up would cost us £31 for a £1 unit stake.
However, if I use the exact same selections, but increase the number of banker bets to three, this cuts down the number of lines I need to cover markedly to just seven, as you can see in the bets slip below.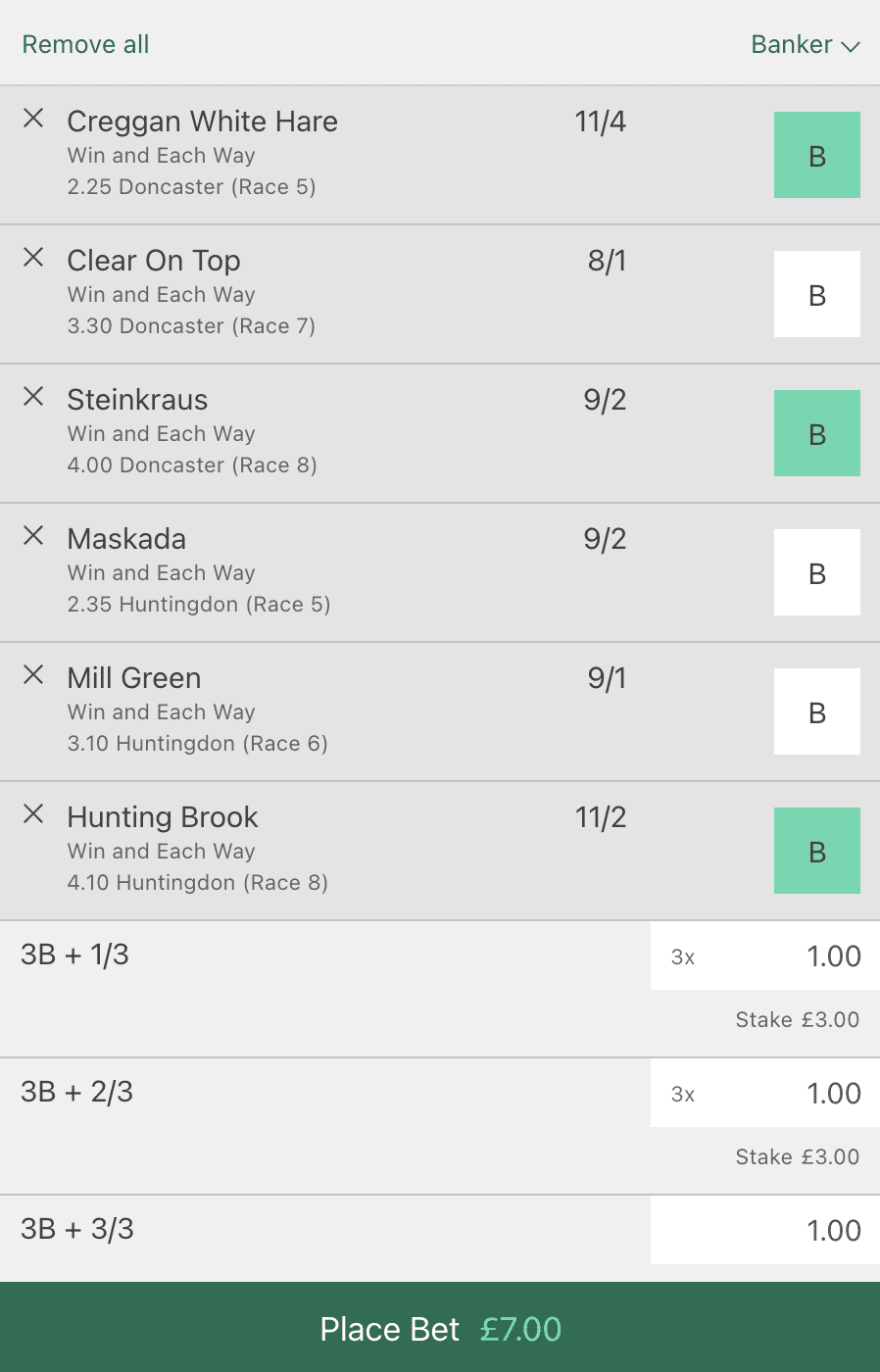 Remember though, your banker bet must win for you to stand any chance of landing a win with this type of bet, but this is a great way to put multiple bet selections together, without needing every one of them to win to land you a return.
If Bet
An If Bet is a single bet of between 2 to 12 selections, joined by a condition.
There are essentially two types of If Bet:
A Single Action bet where the player will see their interest continue to the second bet (or subsequent selections) but only if all their preceding bets win.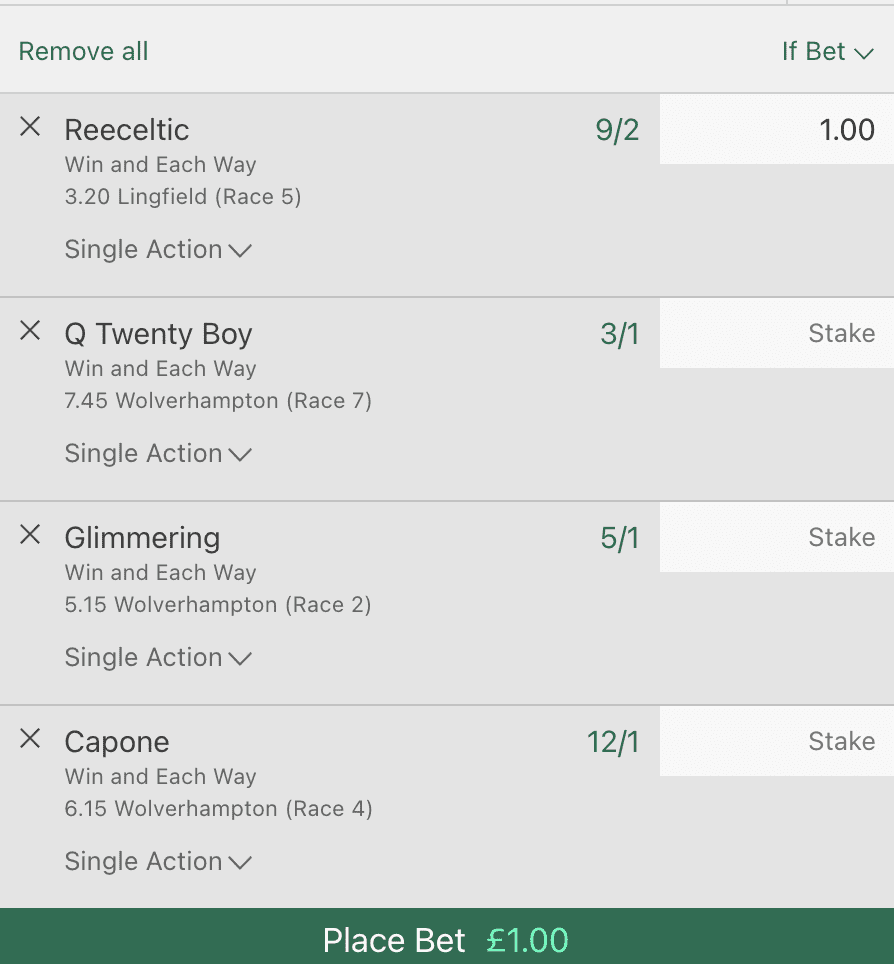 A Double Action bet will see the player maintain an interest on subsequent selections but only if the first selection wins, ties or the game is cancelled.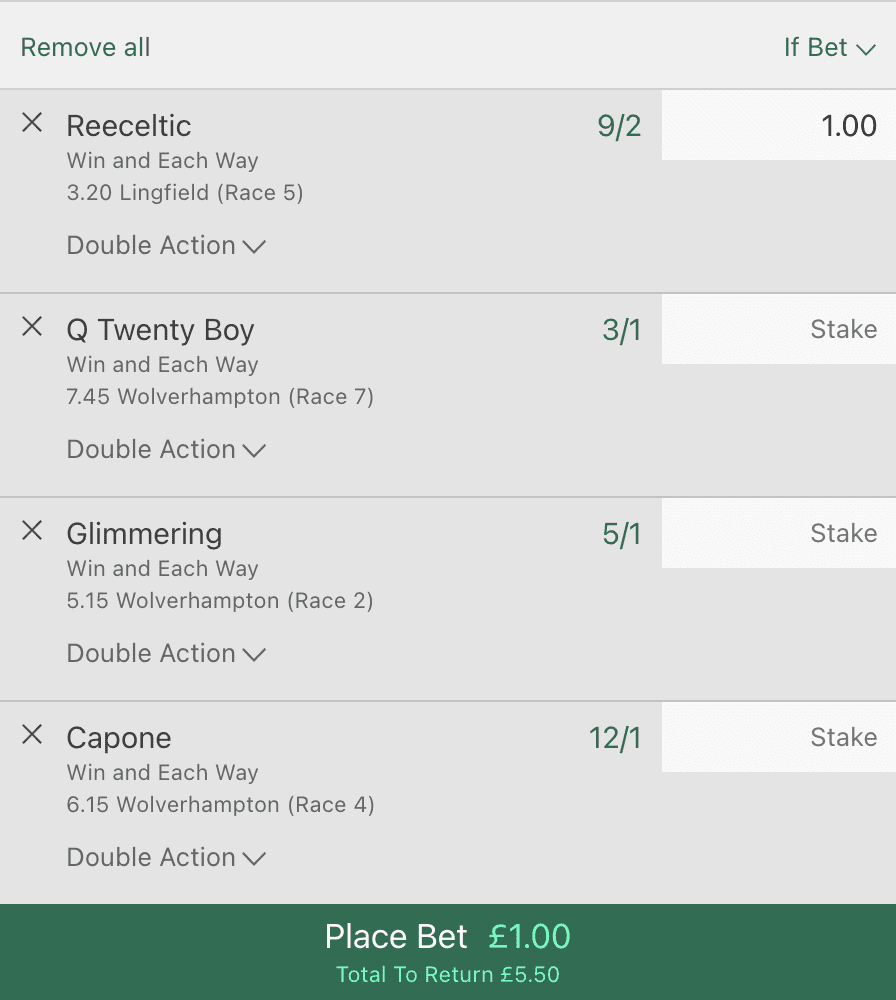 The main difference being that on a Single Action If Bet, your selections must win and on a Double Action, they must not lose.
Reverse If Bet
A Reverse If Bet is 2 bets involving 2 to 12 selections joined by conditions as in an If Bet, but this time, the chain runs two ways, down the betting slip from first selection to your last and up it, from your last to your first.
This therefore means there are two separate bets in this selection. As in an If Bet, both Single and Double Action options are available but any time a selection hits a losing bet, the bet is lost.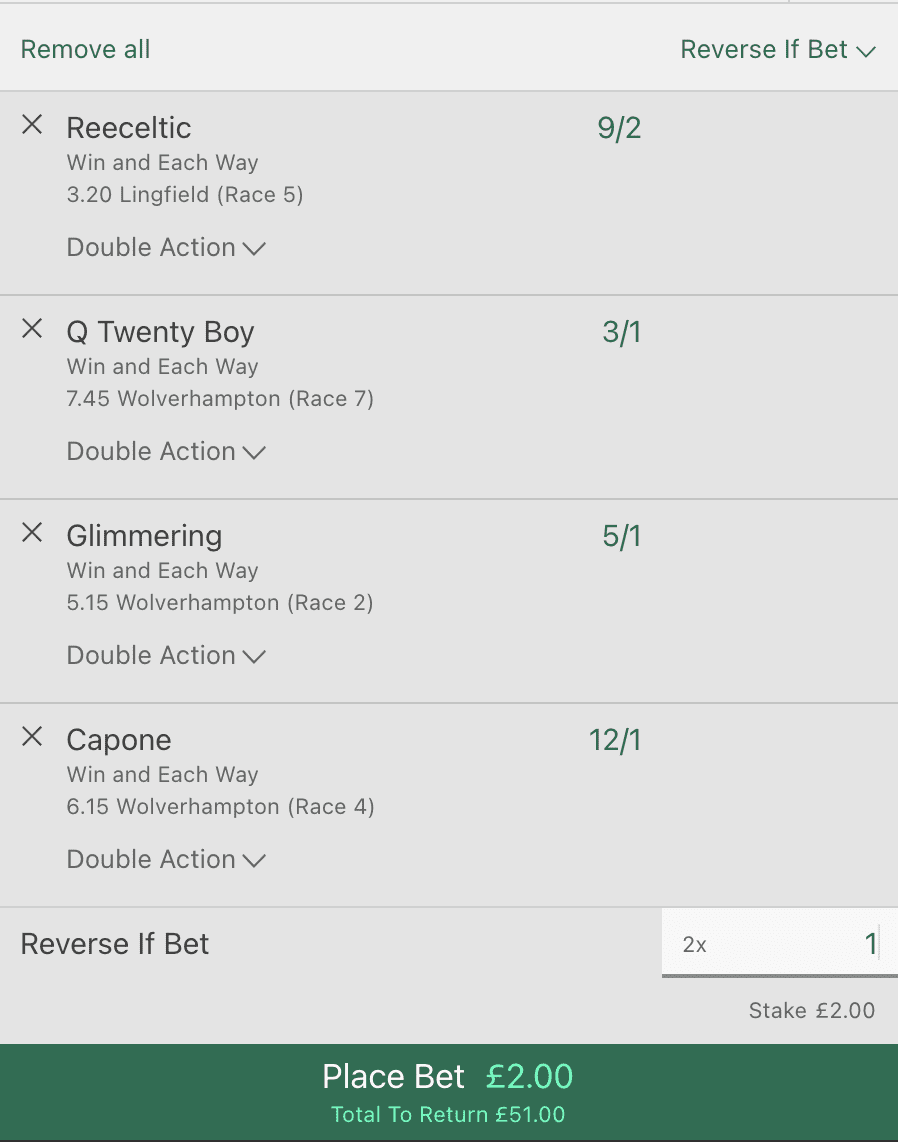 Teaser
A Teaser bet is only used across point spread selections or game total selections on American football and basketball, where this form of betting is very popular.
A customer can buy or sell a fixed number of points on their selections on the bet and the pay out is decided by the number of teams in the bet and the number of points bought or sold.
All selections must win for the bet to be successful. By buying and selling points, a player is altering the handicap on their chosen game, thus altering the odds for their chosen selection.
In the first example, the odds are shown with the Teaser Type set at 4 points.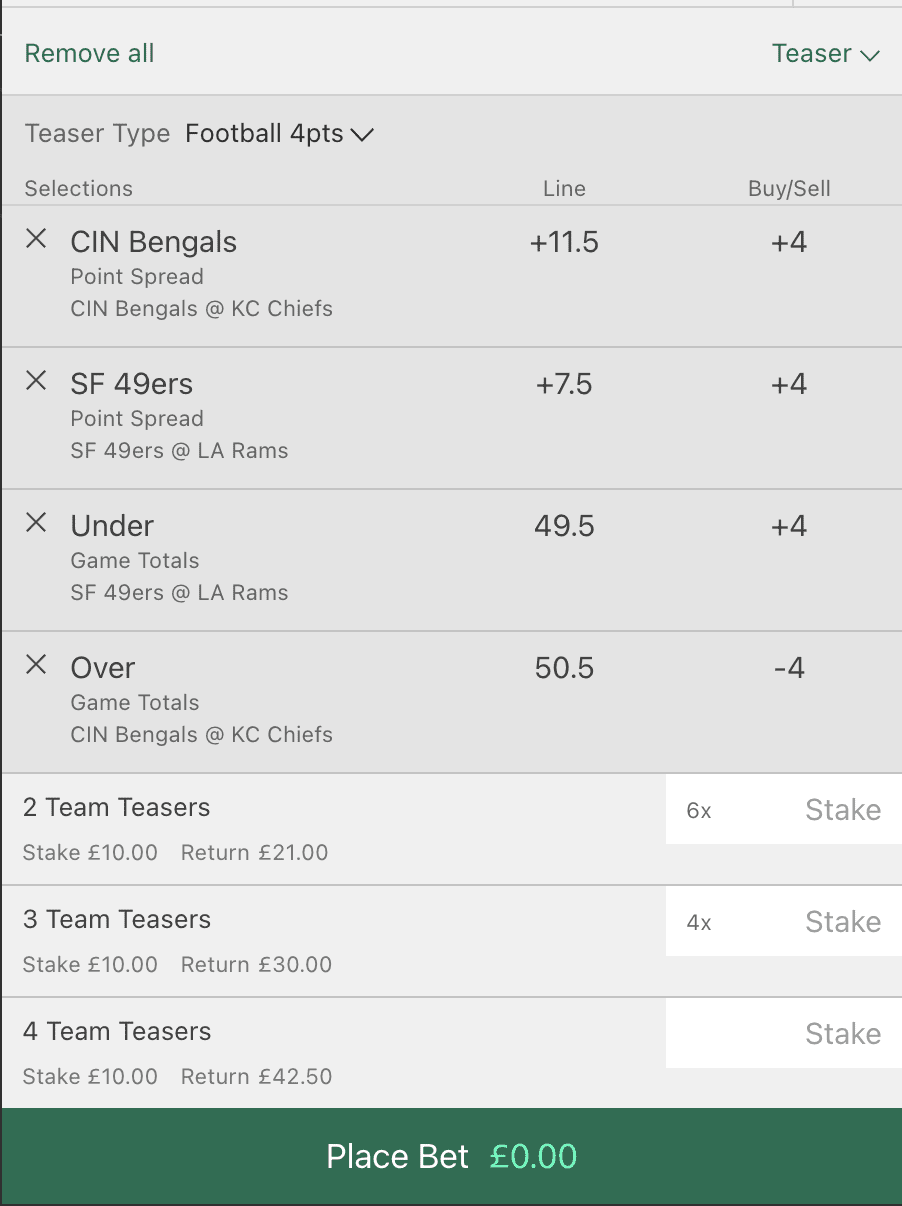 However, in this second slip, we have altered the Teaser Type to a higher value of 6.5 Points. You can see how this alters the handicap value for each bet and thus the odds and your potential returns for a £10 stake, change.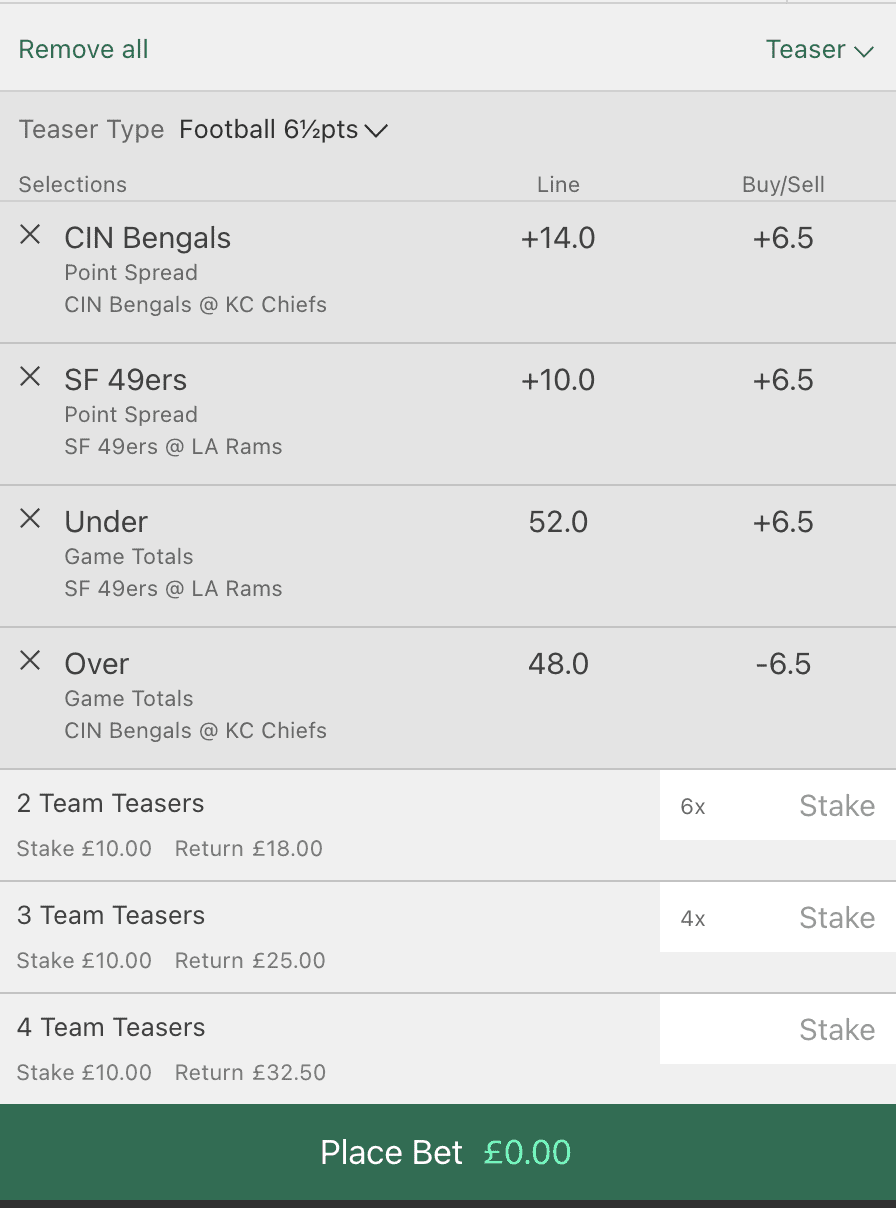 It is worth noting that there is a link you can click on the bet slip labelled "Remove All" which will remove all your selections from the bet slip and set the bet slip back to the default option.
At times, you may notice that the odds on a selection you have made are highlighted in green. This means in the time between you adding this selection to your bet slip, and you placing the bet, the odds on that selection have changed. You then need to accept these new odds first by clicking the button at the bottom of the bet slip, before you can place the bet.
Section 2: The Bet Slip Selections Section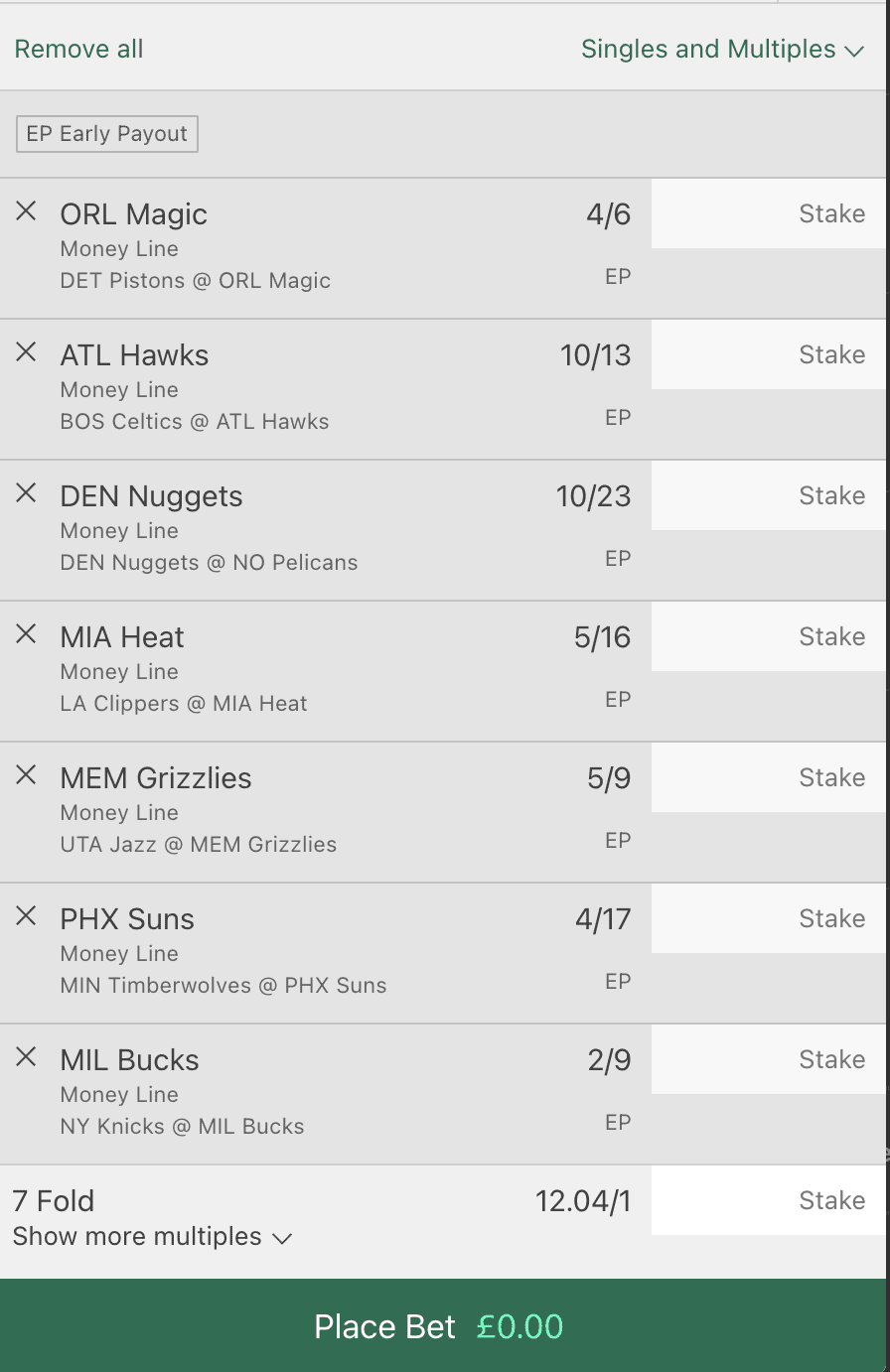 The selections section of the betting slip contains the details of which bets you are planning to make. Your selection is identified in larger text and the current odds for that selection are listed.
If you can back your selection Each Way, then you can select this option by clicking on the button in the E/W column. However each way bets are not available for all selections (such as the money line bets on NBA Basketball as shown in the example above).
You can elect to back each game individually by adding your desired stake into the stake box next to each selection. However, if you want to place a multiple selection bet, you use the bottom section of the box to select the multiple bet you wish to make.
The default setting is for an accumulator using all of your bet selections, however clicking on the Show more multiples option will give you additional multiple bets to choose from.
The format of the stake box changes if you select an Each Way bet. As an Each Way bet is effectively two bets in one:
That's because you cover your selection to win the race, as well as to finish in any of the places offered for each way bets (in this case, 1st to 3rd). That is two separate bets.
So an each way bet requires you to bet two units of your stake.
In the example below, you can see we have placed a £5 Unit Stake on our selection, Clear On Top, which is two £5 bets, for a total bet of £10.

You can enter in your Unit Stake or the Total Bet and the Bet Slip will automatically update to reflect this.
You can see that our £5 each way bet on this selection would cost £10, but if the horse finishes in the top 3 places I would earn a return.
If Clear On Top wins the race, I would pick up £58.00 shown on the bet slip.
However, if Clear On Top finishes 2nd or 3rd, I would only pick up winnings of 1/5 of the odds (£11.60).
Do note that with bet365, on some races you can alter the number of paid places for a race, but this will affect the odds of the horse you have selected. The greater the number of places selected, then the shorter the odds will be on your selection.
Bet365 Bet Slip: Multiple Bet Options and More
Now let's delve into the third and bottom part of the Bet Slip: Multiple Bet Options.
Then to conclude the article, we'll provide you with some useful tips for using theBet365 Bet Slip to get you betting on your favourite sports markets quickly and easily.
Section 3: Multiple Bet Options
When looking at the Multiple Bet Options on the Bet365 Slip, it is important to note that this section will only become available when you have made multiple selections. If you have only made one selection on your slip, then there will not be any multiple bets available.
However, if you have made several selections for a single coupon, as shown in the screenshot below, then there are some multiple bet options available to you.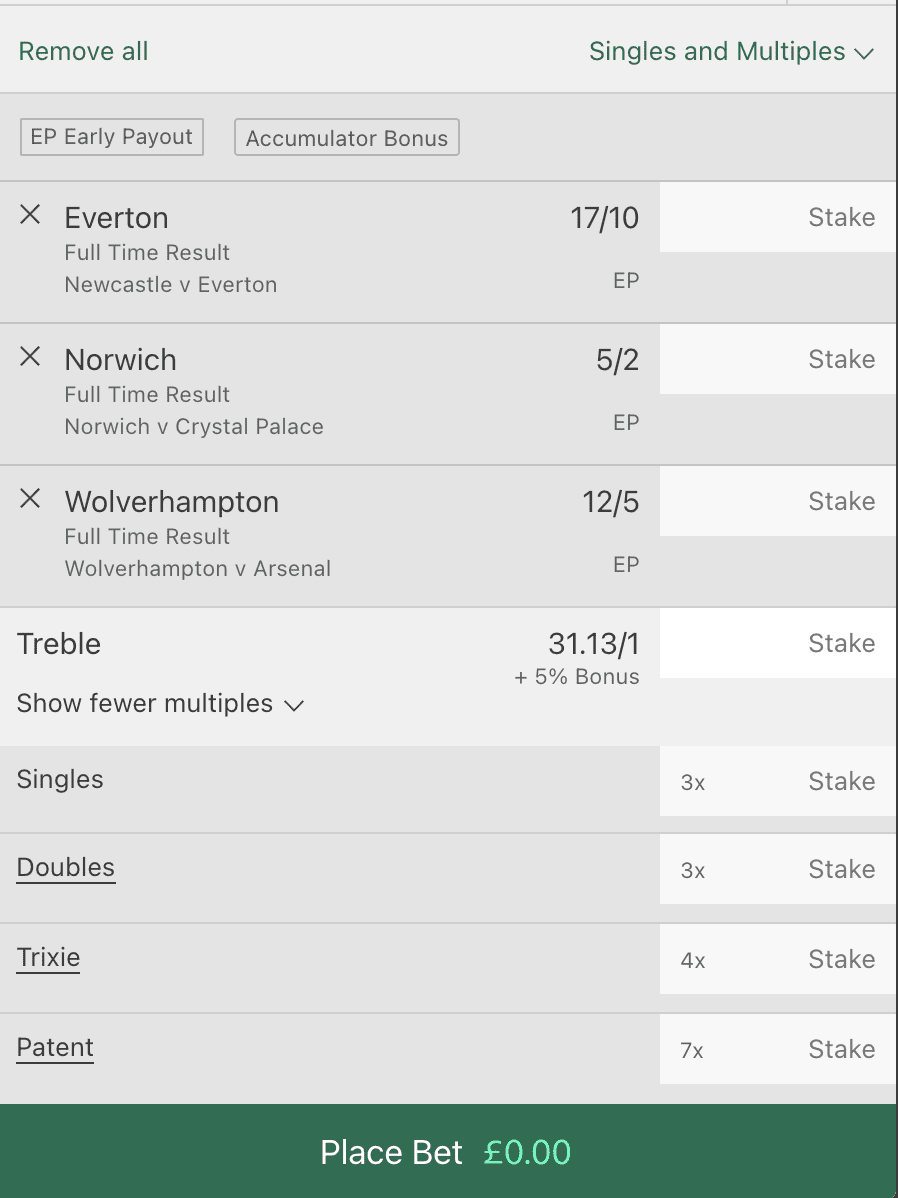 The Show Multiple Bets option can be found under the Multiples label and arrow on the left of the bet slip, underneath your selections.
This arrow expands the slip to show you all the Multiple Bet Options you have available for the selections you've chosen in the Bet Slip Selections section.
The Bet Type label then lists the available multiple bets (e.g. singles, doubles, trebles, trixies, etc.) for the selections you have made on your slip.
Bet365 hosts a Betting Glossary within its online Help section that details all the different types of bets available including for horse racing and dog racing.
In general, the more selections you make on a single Bet Slip, the greater the number of multiple bets you will be able to bet on.
There are a large number of multiple bet options including doubles, trebles, accumulators, patents, trixies, heinz, super-heinz, goliaths, and many more.
The second column to notice next is the Stake Box. This is the name given to the unit stake that you place on all the bets covered by the chosen multiple bet option.
Once you enter in the Unit Stake, this amount is then multiplied by the number of individual bets required to make up the multiple bet and through this will come up with the total stake for that multiple bet.
Handily, bet365 shows you how many individual bets are required for all multiple bet types, so you will know how much it will cost you.
You can place more than one multiple bet on your selections if you so wish, but your total amount stake to cover all the options for each bet will increase as a result.
It is also worth noting that a checkbox that may appear underneath each type of multiple bet, indicating that you could choose to place the bet each way, depending on the market and the bet placed.
In the example below, you can see that I have backed the three selections as an Each Way Patent bet, by ticking the box and turning it green.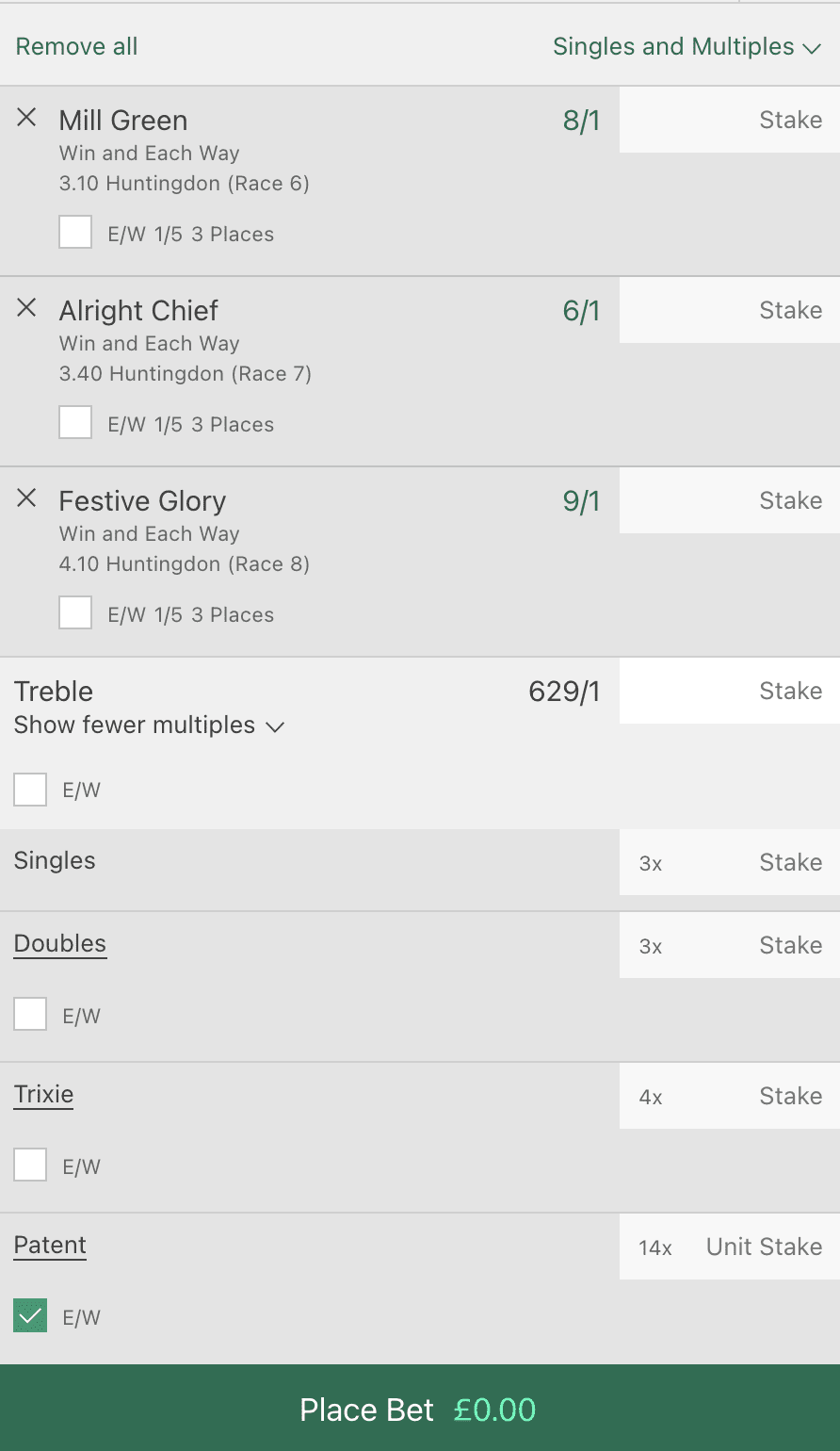 You will notice here that the number of unit stakes to cover this bet has increased from a standard 7x unit stake for a standard Patent bet, to a 14x Unit Stake for an Each Way Patent, and this is because every each way bet requires two unit stakes to cover the bet.
Once you have decided which multiple bet option you wish to bet on, simply enter your stake and then click the yellow Place Bet button at the foot of the page to place your bet.
In essence, that sums up the Multiple Bet Options section of the Bet365 bet slip.
Reading through this Bet365 Bet Slip Overview, you have all that you need to know about how to place a sports bet with Bet365.
With this knowledge and an offer redeemed through a Bet365 no deposit bonus code, new Bet365.com members can try to win even more by betting on sports online.
Making Betting Better At Bet365 Sport
Having learned all about how to complete a betting slip, let's take a look at some of the handy tools, hints and tips which can make betting with Bet365 fun, quick and easy.
When one or more selections have a red bar to their left and a message appears under the selections (such as Multiple options are restricted) it means there is an issue with the selection that restricts or prohibits your betting options.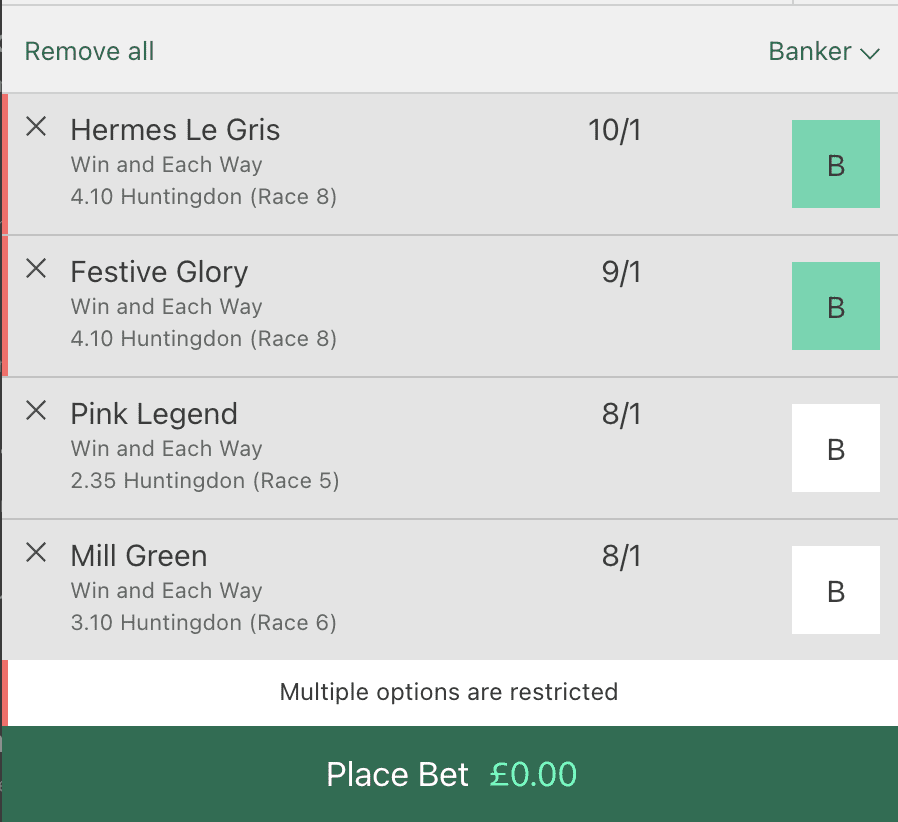 This occurs when there is a problem with the bet selected, such as you have picked two horses to win from the same race (as is shown above). Resolving the issue is easy as you just remove one of the offending selections from your slip, leaving the other on the slip.
The bet slip then updates automatically and you will see the restriction message disappear from the slip.
Section 4: Some Handy Quick Hints and Tips
It is easy to find out how much will be deducted from your Bet365 real money balance when the bet is placed, by checking for the Total Stake.
This is particularly useful when completing multiple bets with several Unit Stakes (such as patent, trixie or similar bets).
However, if you don't have sufficient funds to cover the bet, bet365 won't place it for you, so you can either add funds to resolve the situation, or adjust your bet or stake as required.
To delete all selections on a Bet Slip and start over from scratch, click Remove All.
To officially submit your Bet Slip, placing your bets and giving Bet365.com permission to deduct the Total Stake listed from your real money balance, click Place Bet. Once your bet is successfully placed, a Bet Receipt is generated.
You can also find complete details on all the most recent bets you've placed at Bet365.com by going to My Bets section which is on the front page of the site.
There are plenty of other features you can discover to help you place bets at bet365 Sport. For soccer fans, you can use the Bet Builder feature to help you place same game accumulator bets, for example.
There is also extensive customer support available for new customers, as well as links to sites that can help you adhere to responsible gambling, which bet365 fully supports.
In essence, that is all you need to know about betting successfully with Bet365.com. The site is very user-friendly and intuitive ensuring that even the beginner sports betting fan has the tools required to place a myriad of bets on a vast number of sporting markets easily and quickly.