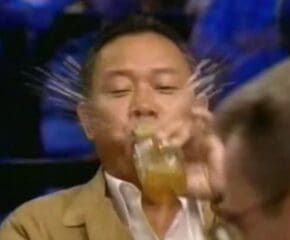 Los Angeles, CA – Wow, I guess years of practice really does pay off!
On Thursday, Men "the Master" Nguyen entered the first flight of the $160 Mega Millions tournament at the Bicycle Casino, and incredibly had already amassed half the chips in play after just a few minutes!
Surely, we haven't seen a player dominate in this fashion since Jamie Gold won the 2006 WSOP or Russ Hamilton won every single hand he played online.
Nguyen's stack inevitably caught the eye of tournament bloggers right away. A quick survey of the room showed the average stack to be just over 20,000 in chips.
"The Master" lives up to namesake
But Men has already accrued an absolute monster stack 14.5 million in chips – that's over 700 times the chip average! Talk about a legend of poker.
One would think that The Master would have a mountain of chips in from of him since his chip count was in the millions. Yet incredibly most of Nguyen's chips were simply in 500k or 100k denominations.
We at BCP were able to catch up with the 7-time bracelet winner to discuss just how exactly he was able to win all those chips.
"I no do anything wrong!" Nguyen pleaded before yelling out for more cocktails, combing his ridiculous face whiskers, and punching a couple dealers in the face.
"Men! I catch you doing something like that six or seven more times, you're gonna get a penalty," threatened the tournament director.
Fantastic!
Still The Master
Later around level 5 Nguyen had chipped up nicely to 16.6 million, but then after polishing off his twelfth Corona in 2 levels, fell asleep on the floor.
Naturally, several of Men's friends and pupils came by to see how he was doing. And wouldn't you know it, Nguyen is such a talented player that even though he was passed out on the ground, his stack continued to grow as his friends stopped by. Amazing!
Of course, it wasn't all smooth-sailing for The Master. When he came to, Men was rather humiliated after a particularly embarrassing mis-click.
After his opponent had raised to 650, Men meant to raise to 2,000, but had clumsily grabbed two 250k chips from his pocket and raised to half a million.
"I forget I keep the 1ks in my left pocket, the bigger chips in my right. So I messed up there. I admit it."
Men was able to recover and finished the day with 33 million of the 28 million chips in play.
Men the Master has 5 WSOP Circuit rings, 4 WPT Final Tables, and 7 World Series of Poker bracelets. He noted that after each victory he was able to keep his winning hand as a souvenir. Also the rest of the deck as a souvenir. Also his chip stack.