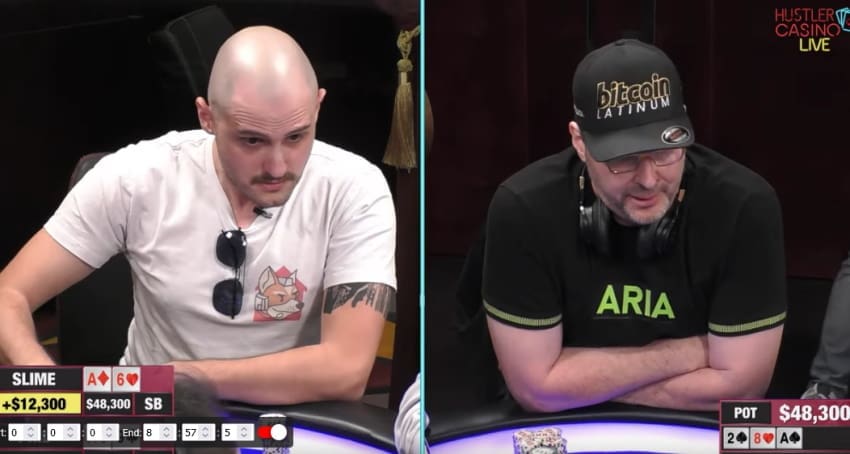 Another week another Phil Hellmuth story.
The latest comes from Sunday's famed live stream from the Hustler Casino which featured celebrated influencers, streamers, and YouTubers such as MrBeast, Ninja xQc and Alexandra Botez.
As ever with the Poker Brat, the story involves a mixture of "genius" with a heavy helping of controversy.
In a hand on the live stream between Hellmuth and an amateur player called the Slime Machine, Hellmuth appeared to angle shoot his opponent.
READ: High Stakes Poker Season 9 recap and highlights
Angle Shooting?
It was $100/$200 No-Limit Hold'em and Hellmuth raised pre-flop to $700 with Ace-Nine.
The Slime Machine, who was holding Ace-Six, and two others duly called.
The flop showed Eight-Ace-Two giving both players duel Aces.
MrBeast, who had nothing on, raised $5,000 which Hellmuth called before the Slime Machine went all in.
This forced MrBeast to fold before Hellmuth looked to do the same as he pushed his cards towards the middle of the table.
Naturally, everyone thought that the Poker Brat was folding his hand too.
Hellmuth then signaled to his opponent to show his hand while turning his own over to reveal his Ace-Nine.
As you might expect, the Slime Machine did as instructed and showed his Ace-Six hand.
Hellmuth then denied he had folded all along but instead was showing them to Tom Dwan, leaving an astounded Slime Machine not knowing what to do next.
Fold Or No Fold
In a sneaky gesture to cover for his angle shooting – or to just be sporting if you're feeling generous to someone not exactly known for that sort of thing – Hellmuth offered his bemused rival his bet back while paying him $5,000 as a gesture of goodwill seeing as Hellmuth had the best hand.
But, because of course, it would, a six then showed up meaning had the hand gone ahead as it should have, the Slime Machine would have won the pot.
Of course, Hellmuth wasn't done there.
He would go on to hassle the stream's biggest winner, Alexandra Botez, after she beat him in one hand and would also progress to moaning about both the deck and the dealers.
The game finished with Hellmuth down $96,400 and Botez up $456,900, while YouTubers MrBeast, Ludwig and Ninja all finished up six figures.
This move has sent the poker community into a discussion over whether Hellmuth mucked his hand or not and whether or not he was angle shooting.
You can see the video, which with more than 2 million viewers broke viewing records, to decide for yourself.