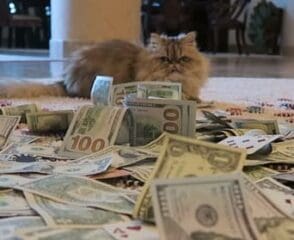 Editors Note: Cosmo "beasts everything"
Las Vegas, NV – Budding lyricist and popular YouTube Poker Vlogger Brad Owen has unleashed a long-held secret onto the poker world.
While poker fans around the globe spent 2017 celebrating the achievements of WSOP Main Event champion Scott Blumstein, High Roller for One Drop winner Doug Polk and inaugural Poker Night King of The Hill Phil Hellmuth, "Cosmo the Poker Cat" was patiently awaiting his moment in the spotlight.
That moment has finally come as Owen — a live poker rounder who once starred in a Pizza Hut commercial as a toddler — showcased Cosmo in a recent video on the official Brad Owen YouTube channel.
Reigning World Champion says Poker Cat taps the glass
In July of last year, New Jersey pro Scott Blumstein outlasted more than 7,200 opponents to take home $8,150,000 and a coveted WSOP Main Event bracelet.
While Blumstein has remained amazingly humble in the aftermath of his poker windfall, the 2017 world champion had some choice words for Cosmo — calling out the poker cat for its questionable chest-beating feeding frenzy against fish.
"The thing about Cosmo that gets me is he does have a bit of an ego to him. He's a great poker player, but he's always bragging about how he plays purr-fect," confessed the Top 100 all-time live poker tournament cash prize winner.
Blumstein would go on to say, "Cosmo and I once were playing cash games at the Bellagio and we got into it a little bit. There was a little bit of animosity. He called me 'donkey' and I said, 'I'm not going to take that from him.' And I said, 'You know what, Cosmo? You're a p***y!'"
In spite of the friction between the two competitors, Blumstein defended the poker cat when it came to the 4th Annual American Poker Awards, suggesting Cosmo "got robbed." Referring to the People's Choice award, the all-star ROI horse stated, "Frankly, I think Cosmo deserved to win."
Poker Cat heads-up mastery course?
Elite YouTube Poker personality and Upswing Poker training site founder Doug Polk routinely shares stories about his old-school online poker battles against fellow high stakes pros Ben "sauce123" Sulsky and Dan "Jungleman" Cates.
But Polk — a renowned heads-up No Limit Hold'em specialist who owns a 2015 victory over Carnegie Mellon University poker bot Claudico — didn't fare so well against the smack-talking poker cat.
"Cosmo and I played tons," begins Polk at the 2:47 mark of Owen's video. "We used to battle all the time back in the day. It was pretty back-and-forth, you know. Sometimes he'd win…," Polk reminisces before seemingly bowing his head in defeat.
The Twitch and YouTube live stream tournament cash record holder would refer to Cosmo's game selection skills as, "That guy has never been a dog in the game."
Poker Cat runs bluffs, chugs milk & takes naps
Even 14-time World Series of Poker bracelet winner Phil Hellmuth has struggled against the poker playing feline.
Hellmuth describes how Cosmo managed to successfully bluff him during a key hand that took place in Bobby's Room (when The Poker Brat met The Poker Cat). But apparently, that wasn't the worst of it.
"This cat is drinking milk," the Madison, Wisconsin native exclaims. "And I'm like, 'Who drinks milk at a poker table?'"
Cosmo's lack of consideration for his opponents' losses was confirmed by Polk — who added, "Who takes a nap in Bobby's Room — other than Doyle Brunson?"
Poker Cat has "favorable" results vs. Andrew Neeme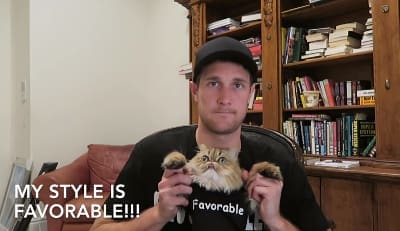 American Poker Awards "Personality of The Year" Andrew Neeme also confirms the meteoric rise of the Poker Cat.
"We started at the same time and we were coming up together, but he just flew through the stakes," admits Neeme.
Poker Cat sends message to fans
For his own part, Cosmo challenges those who have yet to buy-in to the poker cat's prowess.
If you don't believe me, put me in the ring. Then you'll see I beast everything!
Heads-up. Full ring. Six-max. I beast everything!
Cosmo's skills at the poker tables could spell bad news for professionals at the 2018 World Series of Poker. Although an appearance at this year's WSOP has yet to be confirmed, rumors have swirled that bathroom urinals could be removed to make way for kitty litter boxes, and that energy drinks may be replaced with cartons of milk in the Amazon Room.
Another Editors Note: We'd like to send a special shout-out to poker pro and YouTube vlogger Brad Owen for his creativity and collaboration efforts in promoting the Poker Cat. All the best from your friends here at Bonus Code Poker!