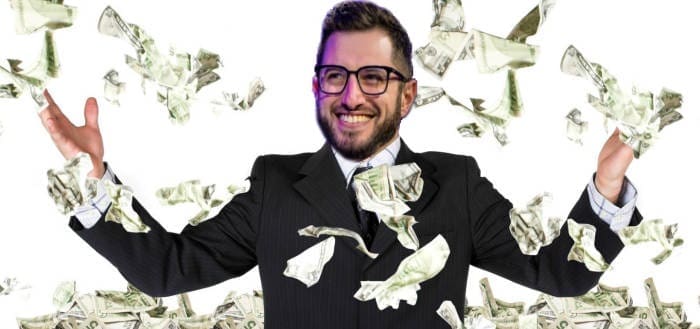 Las Vegas, NV – Sigh.
Things have not been going great for Run It Once Poker founder and all-around good person Phil Galfond.
The poker pro's #GalfondChallenge against "Venividi" has seen Galfond losing about 50bb/100, dropping almost a million dollars overall, and in general has been about as ugly as Doyle Brunson attempting a somersault.
A silver lining
But literally hold the phone, because there might be a bit of good news on the horizon…
The Challenge, which has put more eyes on the Run It Once site than ever before, has generated upwards of three new player deposits!
"Three new player deposits are the most we've ever had in one week," noted Run It Once CFO Arthur McArthur.
"These player deposits have totaled almost €315, which I can't be too sure of the conversation rate, but I believe is something like $15 million dollars."
Assumably, new customers like these were the main motivator in Galfond creating the challenge in the first place. A quick glance at the challenge shows Galfond is down roughly 38,000 more euros than when I started writing this sentence.
Run It Once has been struggling to compete with big companies like PokerStars and PartyPoker ever since they launched. PartyPoker simply has a much larger player pool and runs MTTs all day, every day. And PokerStars has a long list of sponsored poker pros that will inevitably be cut from the team any day now.
What's next?
Galfond addressed his fans on Sunday morning with a new blog post that simply read:
"What's up guys, it's Phil. Can I have a hug?"
In response BonusCodePoker CEO Pete Carter read this statement at his weekly press conference:
"We take no joy in writing these sorts of articles about Phil Galfond. Galfond is a pillar of integrity and positivity in the otherwise bleak world of online poker. We as a company pray nightly that he turn his downswing around, and that Venividi gets his kneecaps shattered and mustache waxed off. God bless."
The Galfond Challenge is set to resume Monday at 11 am ET. The hands will be streamed on Twitch on delay with commentary by probably Joe Stapleton and Joey Ingram. And maybe some other people will do the commentary too, but we can't be bothered to check who they are.
And finally, as a reminder, if you sign up for a new RunItOnce account using promo code "BonusCodePoker" you'll get an error message and your computer will blow up.
[wp_social_sharing social_options='facebook,twitter,linkedin,reddit' facebook_text='Share on Facebook' twitter_text='Share on Twitter' linkedin_text='Share on Linkedin' reddit_text="Share on Reddit" icon_order='f,t,l,r' show_icons='0′ before_button_text=" text_position=" social_image="]