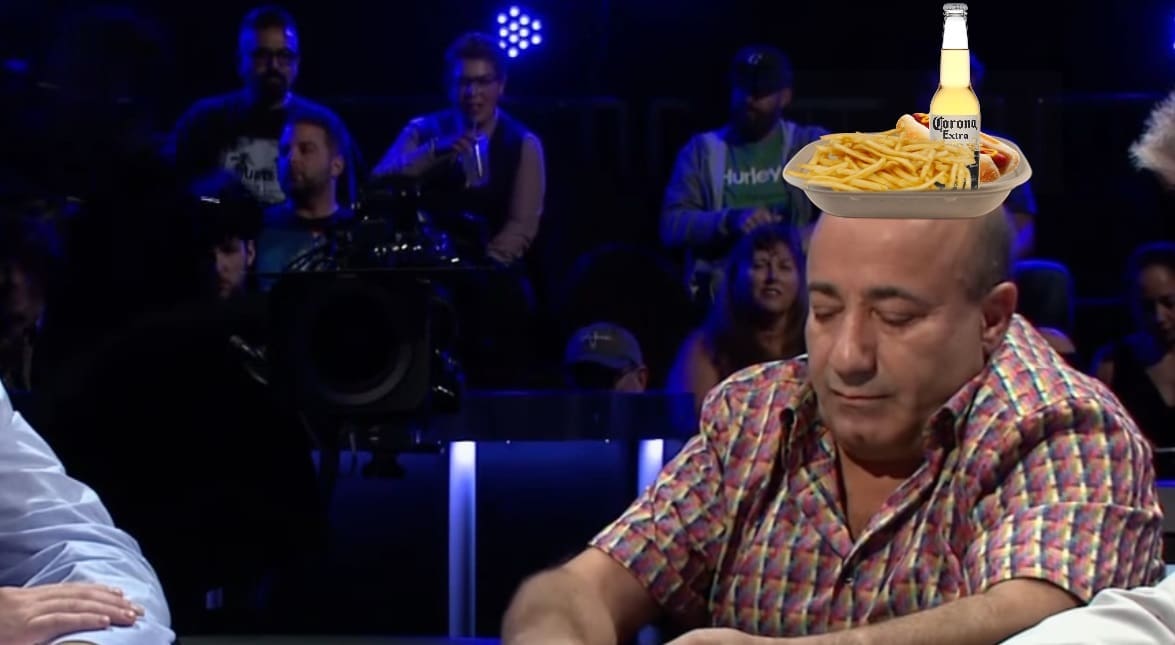 Las Vegas, NV – Whoops!
An embarrassing episode occurred this past Thursday just after 9 pm when a talking food tray next to the poker table actually turned out to be Freddy Deeb!
"We were all pretty embarrassed, me most of all," noted Corey Folger who had more than once placed a drink atop Freddy's head.
Details are scarce, but according to sources, Freddy was actually standing next to one of the higher stakes tables in the back, watching the action, and waiting for a seat to open up when one of the players pulled him over and rested his dinner tray on top of him.
Deeb always a true professional
"That's the thing about Freddy. He's such a pro that he was only focused on the action at the table and blocked out all distractions," added a player who wished to remain anonymous, but whose name is Dmitri.
"When I first heard Freddy start talking, it really caught me off guard," added Corey. "Ya know I thought at first maybe this was some Beauty and The Best-inspired talking furniture bit that the Bellagio was running. So I just kinda smiled and kept playing Candy Crush on my phone which was charging on him. But then all of a sudden he walked away! It was then that I knew I had been charging my phone on top of two-time bracelet winner Freddy Deeb."
Deeb is well-known on both the tournament trail and in the high stakes cash games. The 63-year-old pro has had a storied career that includes two World Poker Tour titles, a couple of WSOP bracelets, and also helping Frodo destroy the One Ring to save Middle Earth.
Deeb was also one of the original characters to emerge from the poker boom. He made the final table of the very first World Poker Tour event ever televised. And also made a deep run (finishing 13th) in the 2003 World Series of Poker that Chris Moneymaker would go on to win.
Deeb says he doesn't play quite as much as he used to. Between raising his three kids, managing two restaurants, and running for his life from your neighbor's cat, he stays quite busy.
Deeb speaks to BCP
We at BonusCodePoker were able to catch up with Deeb to hear his side of the story:
"Listen, buddy, I don't appreciate this sort of thing at all. You wanna talk about poker, we talk poker, but c'mon let's get serious. Everyone thinks they are a comedian you know, but I've heard it all before, buddy. You know I've been playing- hey take that drink off me!"
Deeb can next be seen this week on the newest episode of Poker After Dark. You can also find him most nights playing high stakes poker in Bobby's Room and later trying to swim for freedom out of Rick Moranis's bowl of Cheerios.
Also read: Gamble-crazy Players Begin Playing Ridiculous "Action Poker" Variant