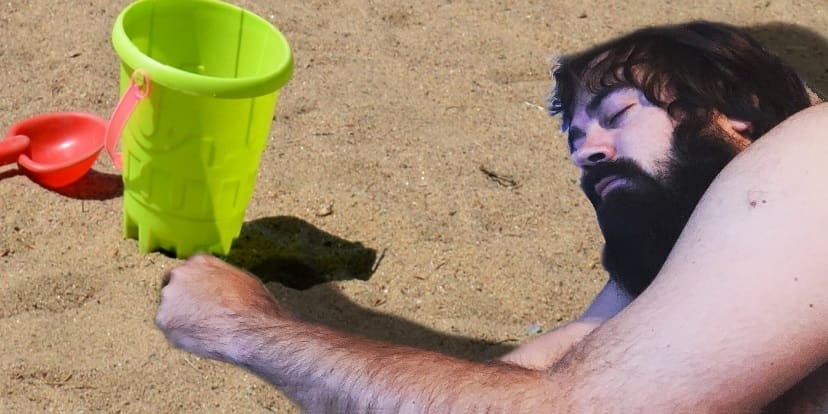 Miami, FL – Oh no!
Authorities had some figurative egg on their face this weekend when it turned out that the drunken vagrant they arrested on the beach was actually just Jason Mercier taking a nap!
The five-time bracelet winner was enjoying a quiet day on the beach with his wife Natasha and young son when he decided to take a quick power nap in the shade. Not 15 minutes later a team of eight of Miami's finest descended upon the snoozing pro and took him into their custody.
Charges ultimately dropped
Mercier was officially charged with public drunkenness, loitering, trespassing, and racketeering – although police said they only threw in that last one cuz it sounds funny.
However, after many, many hours in county lock-up, Mercier was able to show the officers several clips from The PokerStars Big Game and ESPN's The World Series of Poker to prove he wasn't homeless, but in fact a successful poker pro. Begrudgingly, the police dropped the charges.
Mercier was released under his own recognizance, albeit with a warning that a shave and a haircut probably couldn't hurt, and that in their defense he "looked like if Tom Hanks' character in Cast Away was played by Horatio Sanz."
MPD, Mercier weigh in
Later that night, the MPD addressed the mix-up.
"This is really embarrassing for the entire Miami police force," announced Chief of Police William Rodriguez in a public statement. "We usually arrest several homeless every day simply to stay fresh and because it's fun. But to find out that Jason was not homeless, but merely a disheveled looking millionaire – well, all we can offer is an apology and a 'Get Out of Jail Free' card, which is actually a real thing."
The EPT Sanremo champion said that he was a bit annoyed with the whole situation, but that it wasn't the first time this has happened and probably wouldn't be the last. Mercier later noted that he couldn't sleep due to his frustration, so he went to the Seminole Hard Rock casino and won a tournament for $745,000.
Mercier ultimately described the whole fiasco as "standard" and that he doesn't hold any lasting ill will toward the officers involved or the city of Miami.
All parties initially appeared to laugh off the incident. Although upon finding out that he used to play online poker, Mercier was re-arrested and sentenced to life in prison.
[wp_social_sharing social_options='facebook,twitter,linkedin,reddit' facebook_text='Share on Facebook' twitter_text='Share on Twitter' linkedin_text='Share on Linkedin' reddit_text="Share on Reddit" icon_order='f,t,l,r' show_icons='0′ before_button_text=" text_position=" social_image="]