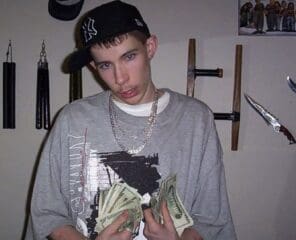 Monmouth, NJ – Wow, talk about diversifying your portfolio!
Charlie Felton, a struggling poker player from New Brunswick, New Jersey, has been calling friends and celebrating nonstop after learning that sports betting has been legalized nationwide.
Felton, completely unaware of how the decision will leave him alone and penniless in less than six months, has been referring to Monday as "the best day of my life!"
Felton, Voulgaris and emerging assassins among those pleased with decision
The Supreme Court struck down the Professional and Amateur Sports Protection Act, or SPASM, stating "The decision with what U.S. citizens should be able to do with their own moneys should belong to those same citizens. And the highest Court in the land upholds those freedoms. Also Ruth Bader Ginsburg wants to put a cool 20 dimes on the Warriors to win it all, baby. RBG bout to get paid, boyyyeeeee."
Despite having been a losing sports bettor with his friends and co-workers for over a decade, Felton has somehow tricked his brain into thinking that the legalization and regulation of sports wagering will somehow turn him into a winning player.
Felton noted, "I think my edge really comes in parlays. There've been so many times when I've bet ten or so NFL games in a huge parlay for 50 bucks and I'm always just two or three games away from smashing it off. I seriously am the unluckiest guy in the world. Unbelievable. But this court ruling is gonna change all that. They'll see… you'll all see!"
Felton still a relative unknown
Famed sports bettor Haralabos Voulgaris had this to say, "Wow, look at my nonsense Dr. Seuss character of a name. Anyway, the regulation of sports betting has been a long time coming. The games are getting more and more competitive. Last year, for example, I took a huge hit and only ended up making $120 million on the year, which is really embarrassing. But to answer your question, no, I have no idea who Charlie Felton is."
There has been some speculation that legalized sports betting will cause cheaters to fix games, assassins to go after referees, and will turn the world into The Purge 4 but with more nudity.
So, nice… nice.
What's next?
New Jersey seems primed to be the first state to implement sports betting with former Governor Chris Christie saying it's the most excited he's been since that one time Olive Garden gave him a free bowl of fettuccine alfredo.
Meanwhile, Felton is already preparing for the regulation by watching as many baseball games as he can, studying line-ups, and complaining to his friends about his missed parlays. He's also been blowing a lot of money at the track to "get the losing bets out of the way."
Oh dear.
Experts predict that legalized sports betting will generate revenue of over $350 billion every two minutes. But more importantly, maybe it will allow people to stop talking about crypto currencies or NFTs every second of the day.