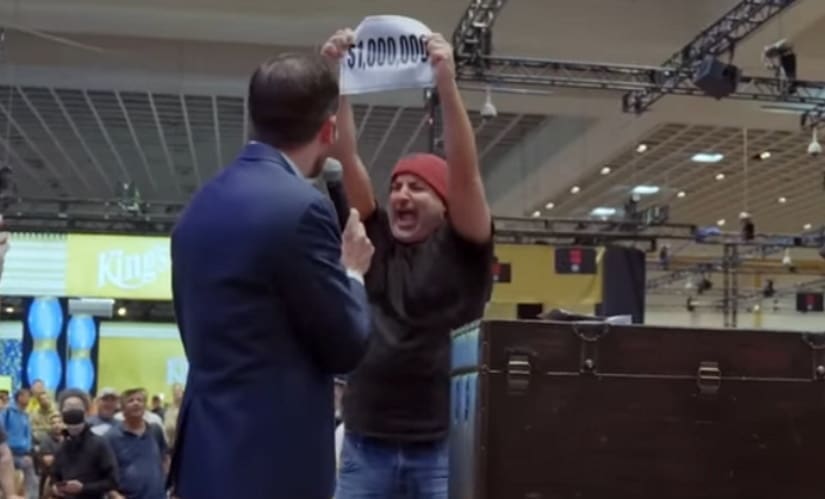 Quincy Borland won the $1,000 buy-in Million Dollar Bounty event on Wednesday night at the 2022 World Series of Poker, but it wasn't the biggest story of the event, or even the biggest prize, for that matter.
On Tuesday during Day 2 of the tournament Matt Glantz, a player with over $7 million in lifetime tournament winnings, drew the top $1 million bounty prize, to win what was his largest poker score ever. The win came on the heels of the start of the WSOP Main Event.
Watch how it unfolded below.
In addition to his $1 million bounty prize, Glantz won $20,730 of the regular prize pool when he finished in 42nd place.
How did the Million Dollar Mystery Bounty event work?
For $1,000, players could enter Event #68, the Million Dollar Bounty No Limit Hold'em, where $300 of each buy-in would go into a pool for "Mystery" bounties. Instead of receiving a fixed bounty prize for knocking out an opponent, each player would receive a ticket that would be drawn in conjunction with a random mystery bounty prize.
The majority of the bounties were the $1,000 minimum. The top prize of the drawing was the $1,000,000 won by Glantz, but other larger bounties were also awarded with six prizes over $100,000 and a few dozen over $25,000.
Here were how some of the top prizes shook out:
Matt Glantz – $1,000,000
Arin Youssefian – $500,000
Azim Popatia – $250,000
Ramon Kropmanns – $100,000
Daniel De Almeida – $100,000
David Timmons – $100,000
Jose Annaloro – $50,000
David Shmuel – $50,000
Tjan Tepeh – $50,000
Spencer Champlin – $50,000
Danny Bigelow – $50,000
Glantz speaks
In comments with PokerNews, Glantz said it "felt great" in what was likely the understatement of the tournament. He also acknowledged that when he saw the "1" on the sheet that he could also see the comma. "I slow-rolled everyone."
Glantz wasn't the only big winner from the draw though. Shaun Deeb and Paul Volpe both had 10% pieces of Glantz in the drawing. I figured I was going to win because [both players] had 10% and they are the luckiest guys in poker.
Glantz voiced displeasure over Mystery Bounty event
Although Glantz took down the biggest bounty prize of the event, he initially wasn't always too keen on the idea of the tournament, posting on Twitter the previous day that he just didn't get the hype around the prizes surrounding the "circus" event.
But in the wake of taking home the prize, Glantz had a bit of fun with his previous comment.