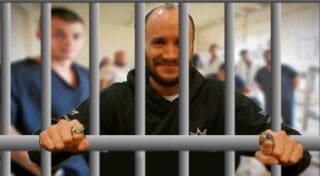 Lo, what treacherous day in the annals of poker history!
Shortly after news broke that Mike Leah "bought" his recent WPT Fallsview title by negotiating a deal with Ryan Yu, new allegations have come forth from players alleging that they too made a deal with the now-disgraced pro.
According to the runner-up victims, Leah, behind closed doors, would offer the other player a very generous deal – get more than ICM money, but in return Leah got the title. Nervous, short on money, and new to fame, many of them submitted to him.
And thus, chip-dumping with Mike Leah became an epidemic. It makes me sick.
What's worse is sometimes a deal was made and the tournament just immediately ended.
In other words, the tournament staff helped facilitate the chip dump! What a disgrace. What a smear on the face of the game that so many of us once held dear.
Outlook: life without parole
Police have recently been called to investigate Mike Leah and have confirmed that what he did was probably a felony and that he will "totally be in jail the rest of his life."
We at BonusCodePoker were able to get in touch with one of Leah's accusers, David Yan, who finished runner-up to Leah in the 25k WSOP Asia High Roller. Through tears, Yan was able to tell our reporters, "When Mike and I got heads-up for the bracelet, he offered me a great deal. He said we could split the money 50/50 even though he had the chip lead, but he got the bracelet. And I agreed. I was young and naive and needed the money. So I agreed. #IChoppedtoo."
Some are calling the latest controversy the greatest scandal to hit the world of poker in the history of time. This is like the UB superuser scandal married the FullTilt payout scandal and had a baby that grew up to be Epic Poker.
But the real victim in all this could be PPIPOKER.net, the online poker site that Mike Leah was the face of for some time. Some analysts have even predicted that the PPI may fall from the 85th most popular poker site down to the 88th.
Some final thoughts of reflection
Verily, our poker heroes, once silhouetted in the light of hope and promise, have fallen far from their collective pedestal into a pit of despair with only remorse and melancholy as their bedfellows.
Can the game of poker ever recover? Only if we come together as a community, look deep inside ourselves, and realize that there will be something better to complain about tomorrow.
More on this non-story as it develops.