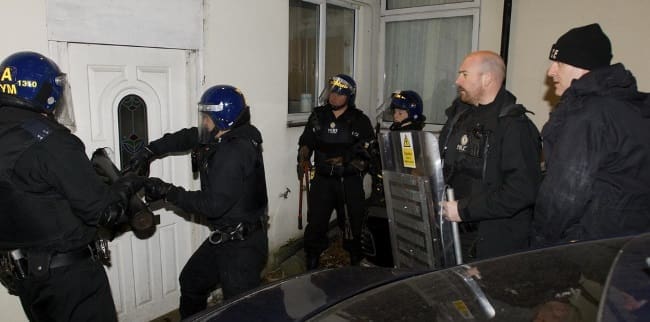 Las Vegas, NV – Wow, what a disgrace.
Local $2/$5 grinder Nicholas "Happy" Dunlavey is now looking at a lifetime behind bars after foolishly trying to sell a World Series of Poker package at the criminal mark up rate of 1.4.
Now technically, selling World Series of Poker packages over a 1.005 mark up is not a crime, but everyone knows that to do so is to incur the swift fiery justice of the long arm of the law.
Dunlavey contributing to an increasing problem
The real trouble began three weeks ago after Nick won two preliminary events at Run It Up Reno. Dunlavey claims that it was shortly thereafter that he decided to sell action to this year's WSOP. However, many experts suspect Dunlavey has been planning this markup scam since the very day he was born.
Just look at the despicable post that you can still find on both Nick's Facebook page and the 2+2 marketplace.
"Hey poker fam! I thought since I've been doing so well in tourneys lately (6 final tables in last 11 events!) that I'd pass along some of the fun to you! I'm heading to Vegas the second week in June to play 4 events and I want you there in my corner! Of course, if no one wants to buy, no big deal. I think I've saved enough that me, Kristen and our twin baby daughters can live comfortably for the rest of our days. Selling 10% at 1.4! LMK! God bless."
Disgusting.
The War on Markups
36 hours after the post, a law enforcement team consisting of various agents from the FBI, CIA, and DEA performed a midnight raid on Dunlavey's two-story suburban home. Nick was lead out in handcuffs while his neighbors cheered as another menace was kept off the streets.
Two weeks later a jury of his peers needed only 11 seconds to find Nicholas guilty of all charges. They were literally doing shots and high-fiving as the judge read the verdict.
"Just looking at you makes my blood boil," commented the honorable Judge Winfred Alabastar in his final statement. "I've seen serial killers, mass murderers, and organized crime bosses all come into my courtroom. Yet I could still find compassion for all of them. I even let most of them walk! But you… The idea of someone selling mark-up at 1.4 to an unsuspecting poker public makes me wish we still had vigilante justice."
Exorbitant markups likely to continue
Nick always donates half his winnings to local charities in addition to tithing 10% to his church. And while on the surface that's possibly admirable, it's made easier since he's fleecing the poker community with his ridiculous markup.
Unfortunately, crimes like this might be here to stay. Selling WSOP packages have become very popular in recent years due to the fact that everyone's broke and FullTilt and PokerStars are no longer sponsoring anyone with a pulse.
[wp_social_sharing social_options='facebook,twitter,linkedin,reddit' facebook_text='Share on Facebook' twitter_text='Share on Twitter' linkedin_text='Share on Linkedin' reddit_text="Share on Reddit" icon_order='f,t,l,r' show_icons='0′ before_button_text=" text_position=" social_image="]