Online poker's most scandal-plagued room is embarking on an unprecedented branding experiment.
Lock Poker is undertaking a complete overhaul that will see the room replace their name, logo and myriad other elements with a fully extended middle finger.
"We wanted an identity that spoke to exactly how we view our customers," said Lock Poker CEO Jen Lawglum. "And we couldn't think of a better way to do that than a firm, proud, right-in-your-face middle finger."
Lock reportedly owes players in excess of $1 million in unpaid cashouts.
In addition to the brand name and logo, nearly all elements of Lock's online poker room will be replaced with a middle finger, including:
Chips and cards, including card backs, shapes and rankings and images on the card face.
Graphical overlay elements such as the numbers used to display pot size and chip stacks.
And, of course, every single user interface element in the cashier.
An exclusive preview of the new Lock Poker: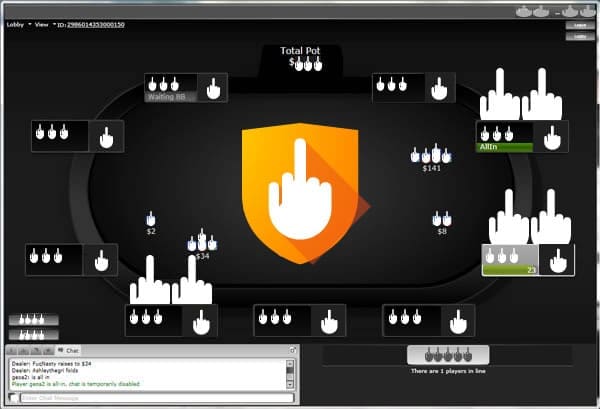 A number of other branding themes were considered, according to Lawglum.
"We thought about an image of feces being flushed down a toilet, but realized players might not get that the feces represented them and not us," said Lawglum.
Also Read: LOCK POKER INTRODUCES "WE'RE NOT BROKE" BONUS.