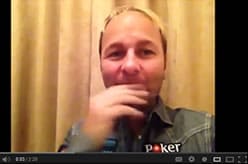 Poker pro Daniel Negreanu covers a wide array of issues in his monthly video rants, where he's talked topics like Black Friday, cheating and the WSOP.
But in his latest video, Negreanu inexplicably veers into the previously uncharted topical territory of popular appreciation for Albert Einstein, who, according to Negreanu, is vastly "overrated."
The strange diatribe begins at the 3:02 mark, where Negreanu pauses his in-depth review of Vegan Snausages mid-sentence, turns directly to the camera and says, apropos of nothing: "…and don't get me started on Einstein."
Excerpts of the subsequent rant follow:
"Can you say overrated? I mean yea sure, he changed the way the world viewed the universe on more than one occasion, but who hasn't these days? I know I have. For someone so 'good' at physics, how come he won only one Nobel bracelet? I mean I have five WSOP bracelets, but you don't see any posters of me sticking my tongue out on any dorm room walls. Einstein's really only still famous because of flamboyant fanboys like Stephen Hawking doing wheelchair donuts in his name.
Negreanu was similarly dismissive of Einstein's best-known work, the Theory of Relativity:
I grew up watching Carl Sagan's PBS show Cosmos and, as a poker player, I'm good at 'the maths', so I know what I'm talking about. The Theory of Relativity? I mean come on! Yea ok, so the closer to the speed of light you go, the more likely you are to be related to everyone else – it's so obvious! He's just a luckbox for being the first one to think of it.
… and concluded the rant by questioning Einstein's value as a total package:
[…] and everyone knows that physics was his only game, because he was a complete donk in biology! You put him in a room with a group of halfway decent biologists and all of a sudden it's yum yum, because he's always the first one out with his theory that all life originated from a giant flying squidicorn!

Hey, did someone just say something about internal combustion engines? Or is that just my AC kicking on? Man, don't get me started on internal com-"
Unfortunately, sources tell BCPoker the video was cut off at that point due to Negreanu's 3TB hard drive reaching capacity.