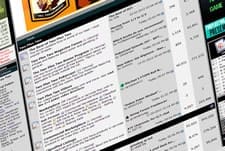 LAS VEGAS, NEVADA — Strange news from the world of online poker today, where one of the most popular poker communities on the Internet has undergone a startling transformation.
On Tuesday morning, at roughly 8:42 AM Pacific Time, an as-yet-unnamed moderator at the TwoPlusTwo forums somehow managed to merge all of the 1,160,603 separate threads on the site into a single post.
The post, which takes several days to load, contains each and every post that appears on TwoPlusTwo  (excluding the archives, which were not affected).
In total, there are some 1.4 billion words and 285,000 unique avatars in the post.  Contributing to those totals:
Approximately 845,000 "GTFO"s.
3,742 posts concerning how much of a tool Doug Lee is.
135,264 photoshops (62,532 of which "deserve more love")
1,020 sightings of Phil Laak playing 10/20 at the Bellagio.
29,182 scams *sigh*.
~18,000 animated sets of boobs.
980 threads related to Allen Kessler (972 of which were created by Allen Kessler).
193,410 instances of people advising OP to call turn and check down river.
There's still no official word on what caused the moderator to take such a drastic action.
Some have speculated that they may have snapped under the weight of the estimated 1,917 petitions started per day in NVG, or perhaps by the 1,021 stories told about the "way gambling used to be" in an average week by "Oklahoma" Johnny Hughes.
Others suspect the mod may have been a plant by someone with an axe to grind with TwoPlusTwo – perhaps someone whose setup was determined to be "not most baller," or the poor individual who intended to use that $50 to buy some food.
A few have even suggested that the thread merge may be the massive brag – or perhaps even the variance – in what would certainly be a BBV of epic proportions.
The humongous single post became even longer thanks to the first user reply.  On the Wednesday following the merge, TwoPlusTwo user Scotty2Jax copied the entire post, replying with only "wtf lol" beneath the 50 million+ line quote.
BonusCodePoker will continue to report on this story as it develops.