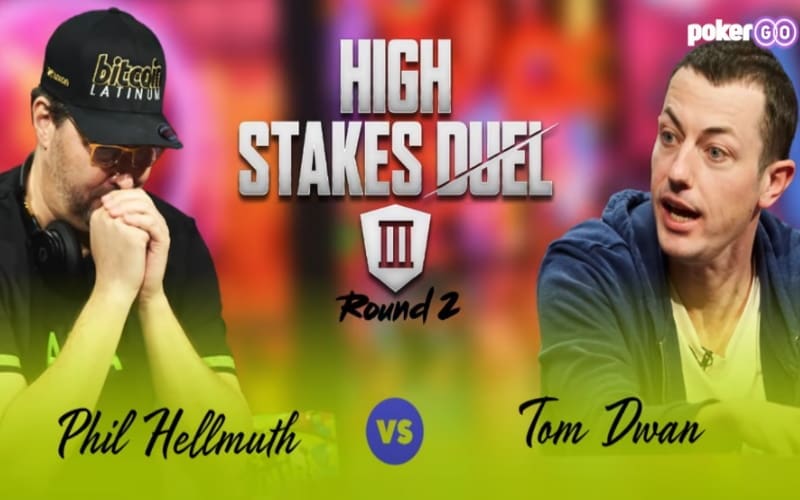 After months of speculation, Phil Hellmuth and Tom Dwan finally face off for their High Stakes Duel III heads-up match on Wednesday. The match comes at a time when Phil Hellmuth has won his first seven matches against a variety of opponents — Antonio Esfandiari, Daniel Negreanu and Fox Sport's Nick Wright.
Like Esfandiari and Negreanu, Hellmuth meets up with one of poker's most popular players in Tom Dwan. They most famously battled heads-up during 2008's National Heads-up Championship. It was during that match that Dwan beat Hellmuth when he cracked the Poker Brat's aces with pocket kens.
With the match setting up to be one of poker's dream match-ups, let's take a look at what players can expect from High Stakes Duel III, Round 2?
When is the Dwan vs Hellmuth High Stakes Duel heads-up match?
The main attraction will get underway on August 25th at 8 PM ET and will play until there is a winner. Although the length of the match can vary, typically matches have taken four or five hours.
What stakes will Dwan and Hellmuth be playing?
Both players will buy-in to this match for $100,000, where they will essentially play a heads-up Sit N Go.
How can I watch Tom Dwan vs Phil Hellmuth?
In order to watch the match in its entirety, poker fans will need to tune into PokerGo, available through the PokerGo website or app. A subscription of $14.99 per month or $99 per year is needed to watch.
In addition to being given access watch the match live, poker fans will also be able to watch previous High Stakes Duel matches as well as PokerGo's always increasing library of poker content, which includes new original shows and content as well as classic tournaments from the World Series of Poker, High Stakes Poker and Poker After Dark.
Poker fans can tune into The Hype Show celebrating the event on August 24th at 8 PM ET. Then on Thursday, a "Weigh In" preview show will be broadcast beginning at 7:30 PM ET, complete with interviews and analysis of the event. This will immediately be followed by the start of Dwan vs Hellmuth at 8 PM ET.
If you are skill skeptical about paying to watch the match, PokerGo will provide the first 60 minutes of the match free of charge on YouTube.
What is the format of High Stakes Duel
Why is this being called High Stakes Duel III Round 2?
As you may be aware, Hellmuth faced off against Fox Sport's Nick Wright and defeated him during High Stakes Duel III Round 1. After that match, Wright conceded defeat but because Tom Dwan accepted the challenge within 30 days, High Stakes Duel III continues with Wednesday's match being "Round 2."
Whoever wins the match will need to play a rematch should the loser, or another player, request a rematch.
What has happened so far in the High Stakes Duel?
Despite Phil Hellmuth facing criticism from some poker fans that the game has passed him by and new GTO-centered players can defeat his style, Hellmuth so far has proved everyone wrong.
Last year, Phil Hellmuth defeated Antonio Esfandiari heads-up in three consecutive matches in the second half of 2020. Next up was Daniel Negreanu, who had just finished an epic multi-month heads-up challenge against Doug Polk that he lost by $1.2 million.
Unfortunately for Negreanu, his luck against Hellmuth wasn't any better with Hellmuth also taking down the first three matches against Kid Poker spanning from March 31st to June 23rd.
Hellmuth's third opponent was a relative unknown in the poker world, but one recognizable by sports fans. Nick Wright, the host of a Fox Sports 1 talk show, met up against Hellmuth in late July. Despite battling throughout the match, the poker amateur ultimately didn't fare much better than the seasoned pros that came before him.
Wright lost the first match and decided not to continue, finishing down $50,000, which leads us to Wednesday as Dwan attempts to break the streak. Meanwhile, Hellmuth will hope to make it eight in a row and add to his $750,000 in winnings so far.
Best Online Sportsbooks and Casinos
Daily Fantasy, Simplified.
Simply choose over or under on your favorite players to play
No sharks, no salary caps, no BS
Turn the game on and follow along with live player tracking to watch how you're doing
Legal in 26 states + Canada (see site for details)